The projects focus on increasing the efficiency of concentrated solar power (CSP) systems  — which use large, expansive mirrors to reflect and concentrate sunlight onto receivers. In turn, these receivers collect the sunlight and convert it into heat that can be used to produce electricity.
Research teams at the University of California, Los Angeles and the University of Arizona are launching projects aimed at improving the performance and lowering costs of solar energy systems.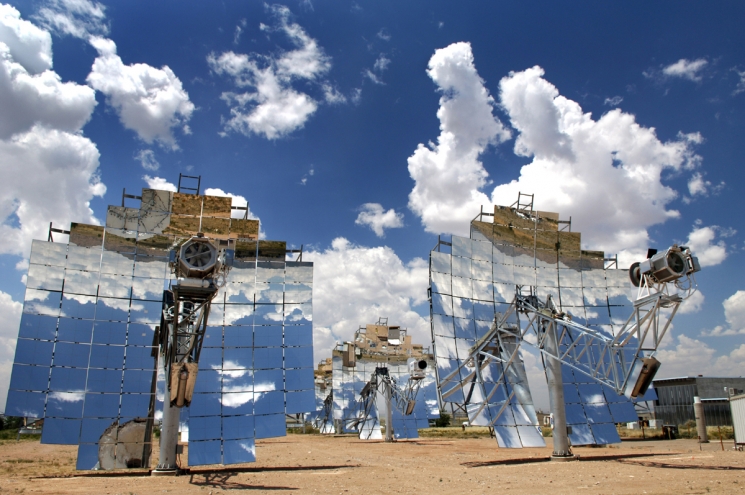 A concentrating solar power system in Albuquerque, New Mexico. | Photo by Randy Montoya/Sandia National Laboratory.
Both research teams will work to dramatically improve the performance of heat transfer fluids – which allow CSP power plants to store energy and provide smoother, reliable output to the grid. The teams will develop heat transfer fluids that can operate at significantly higher temperatures than currently possible — all while maintaining high levels of performance. Recent analysis predicts that using heat transfer fluids that operate at higher temperatures could lower the cost of CSP power plants by nearly $2 per kilowatt-hour.
The university-led projects are supported by a research grant from the Energy Department's SunShot Initiative called the Multidisciplinary University Research Initiative (MURI). MURI is specifically designed to prepare a new generation of scientists and engineers to become leaders in the solar power industry.  In addition, these investments – totaling $10 million over five years – will accelerate the commercialization of new, lower cost renewable energy technologies and diversify our nation's energy portfolio.
Learn more details about the projects by taking a look at the related press release.