ELISE focuses on concepts for data processing in the vehicle, an independent charging unit as well as on studies of interactions of driver, vehicle, and the environment.
The goal of the ELISE joint project at Karlsruhe Institute of Technology (KIT) is to make electric vehicles more reliable and economically efficient in order to establish electric mobility on the market.
The project is funded by the Federal Ministry of Research under the leading-edge cluster Electromobility South-West. KIT researchers cooperate with the companies of RA Consulting and CarMediaLab.
The uncertainty regarding the range that can be covered with one battery charge, together with the driver's anxiety that the battery may run empty while driving on a road, make many users hesitate to buy an electric vehicle.
Up to now, recharging the empty battery depends on the availability of a public energy grid or a public charging station in the vicinity. To increase energy transmission options, e.g. from vehicle to vehicle, systems would have to act more independently.
ELISE—this German acronym stands for Autonomous Charging Unit and System-integrated Data Gateway for Electric Vehicles—is aimed at providing the necessary products and functions, at improving operation safety, and soothing anxieties of users.
ELISE covers a hardware and software unit integrated in the car, which acquires and processes data on the vehicle, its state of operation, and the environment in real time in order to allow for the location-independent use of services.
This telematics platform (data gateway) can be configured for various applications and connected via an interface with a conventional mobile device, e.g. a smart phone, to display application-specific information. Secondly, ELISE is aimed at designing an autonomous charging and discharging unit that will be integrated in the vehicle. This unit is to facilitate emergency charging between two vehicles, similar to a jumper cable.
Leading-edge Cluster Electromobility South-West Starts Joint Project at KIT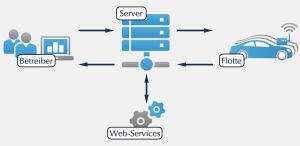 Researchers will develop new concepts based on vehicle remote diagnosis, position determination, and user behavior for more efficient and accelerated development of electric vehicles and their components.
From a holistic perspective, scientists study the interaction of driver, vehicle, and the environment. IPEK, the Institute of Product Engineering of KIT, concentrates on the partial project "Methods Research and Validation (MeValdi)". It deals with market-oriented product ideas, specific requirements, product design, and client-oriented product validation. Research of IPEK under the ELISE project is part of the activities of the KIT Mobility Systems Center in the Leading-edge Cluster South-West.