There are electric-only cars, plug-in and normal hybrids, and even diesel models that promise (on paper at least) to do 80 miles per gallon (mpg).
The car that's best for your wallet will largely be determined by the type of journeys you make.
Drivers looking for an environmentally friendly car that is cheap to run now enjoy a bewildering choice of vehicles, engines and sources of power.
The key statistic to look out for, apart from mpg, is the grammes of CO2 per km that the vehicle emits.
Vehicle tax is now set according to a car's emissions, with the greenest cars that emit less than 131g/km qualifying for zero tax.
If you want to drive in London's congestion zone and avoid paying the daily £10 charge, your car must only emit 100g/km or less. But as cars become cleaner, that level is likely to be reduced.
And before you buy a car based on the manufacturers' claims of fuel economy, check to see what it will achieve in reality. The carmakers are masters at making the figures look good in test conditions but cars rarely manage to match that performance when being driven on the road. So what are the options?
Petrol hybrids
The Toyota Prius, which for years dominated the hybrid market in the UK, has some new rivals – and it's no surprise to learn they are also made by Toyota. The company has just launched the plug-in Prius, which is a serious rival to the Vauxhall Ampera and one that is at least packed with proven technology.
Once charged, the Prius can be driven for about 15 miles using electricity only. After that it becomes a standard Prius hybrid in that the 1.8-litre petrol engine drives the car and recharges the battery.
The car claims to score an incredibly economical 134.5mpg with just 49g/km CO2 emissions, but this comes at a price, with the basic model at £27,000. Its stand-out feature is that it can be fully charged in just 90 minutes from a standard household supply.
It is best for short urban commutes, but with the option to drive any distance using the conventional hybrid engine. Run it on electric power all week and you could be saving £10 a day in commuting costs against the running of a standard 35mpg petrol car – more if you drive in central London.
Meanwhile, if it is too small, Toyota has also come up with the first seven-seat hybrid that will appeal to those with big families or running taxi firms. Toyota's Prius + has just gone on sale at £26,195 and the basic model is London congestion charge exempt. The official fuel economy figure is 68.9mpg but you are more likely to get 55mpg-58mpg in real life if you drive it carefully.
The reliability of Toyota's hybrid technology has certainly been proven, with many cars covering 400,000 miles without major problems.
Hybrids are perfect for cities as the electric engine gets the car going and once it is moving the petrol engine takes over. And every time you brake, the energy is fed back into the battery.
For those who want a hybrid but don't want to spend close to £30,000, the Honda Insight is a cheaper alternative. It has a 1.3-litre petrol engine, does a claimed 68.9mpg (again 55mpg is more likely) and it costs £19,535.
Note that hybrids only make financial sense for those who do plenty of stop/start drives in urban areas. If you spend your life hacking up and down the motorway, a conventional diesel is a better option.
100% electric cars
Despite great advances in recent years, cars that run entirely on battery power still struggle for acceptance. The Nissan Leaf (£25,990) may have set new standards, but sadly has yet to attract buyers in any significant numbers. Cars that can travel just 90 miles rarely meet most consumer's needs – as Mark King found out when he test drove the soon-to-be-launched electric BMW Mini E.
If you run an estate agency or florist's business and whizz round a 30-mile radius from base, they make perfect sense and can be a money saver. Running costs will be a few pounds a week in electricity. However, bear in mind the cost of upgrading your home electricity supply to achieve fast-charging – at a price of around £700.
The real downside to electric cars is that they are unsuitable if you need to travel long distances.
Diesel hybrids
For some car experts, diesel hybrids that combine a diesel engine and an electric motor are the long-term solution to getting vehicles to go further on fewer gallons of fuel. Last spring, the first diesel hybrid, the Peugeot 3008, went on sale and since then almost 10,000 have been sold in Europe. Available here for £27,000, this crossover-type model has an electric motor powering the back wheels and a standard diesel engine driving the front. This large car comes with a claimed 75mpg and you should get close to 60mpg in real life. CO2 emissions are 99g/km.
Provided the battery has sufficient charge, as you set off the 3008 will run in electric mode only for a maximum of 2.5 miles up to 31mph; it can also maintain a cruise speed up to 40mph on battery alone. Someone abandoning a conventional 30mpg car in favour of a 3008 will save £1,300 annually if they drive 14,000 miles a year.
This car will appeal to gadget fans as there are no end of buttons to press and different driving modes, including four-wheel drive. It cleverly decides which driving mode is most economical. Company car drivers will enjoy its snow-beating ability and low car tax.
However before you hand over your cash, be aware the cheapest petrol 3008 is almost £10,000 less and even the basic 1.6-litre diesel costs just £18,895. That delivers 54mpg in the combined cycle and emits 135g/km.
Meanwhile, from November, those with £40,000 to spend will be able to get their hands on the latest luxury diesel hybrid, Mercedes-Benz's E300 BlueTEC. This car is reportedly getting very close to its claimed 65.7mpg, although with emissions figures of 109g/km you will still have to pay to drive in central London.
Mercedes says that unlike many other hybrids, there is no loss of cabin space in this vehicle compared with the same conventional model. Drivers opting for this car will spend almost an extra £10,000 but save £500-£600 a year in lower motoring costs on an average mileage of 16,000. There's an estate version too.
Conventional cars
Plenty of people reading this will wonder why they should invest in a hybrid car when standard diesel cars offer low CO2 emissions and a claimed 80mpg. The excellent Kia C'eed 1.6 CRDi costs £16,500, claims 74mpg and, like its hybrid rivals, comes with no road tax. Meanwhile, VW claims its Golfs will do almost 50mpg in 1.2-litre petrol mode or 74mpg in "bluemotion" diesel form, and there are several cars making similar claims.
While motorists will rarely get close to the fuel economy claims of the manufacturers, these cars will match most hybrid's consumption figures. According to car website Honestjohn.co.uk, which produces real-life fuel consumption data, most diesel drivers are doing well if they get 80% of the claimed figures, and will be doing very well to get over 60mpg – which is still respectable – and offers significantly lower fuel bills for most. A 14,000-mile new diesel car owner would save £1,200 if switching from a 30mpg petrol car.
The downside is that diesel currently costs 8p to 10p a litre more than unleaded petrol. Modern diesel cars have also become something of a lottery. In a bid to clean up their emissions, cars now feature diesel particulate filters. These do the job, but they do not like a diet of urban journeys where hybrids thrive. They are very expensive to fix and the internet is awash with diesel car owners who bought cars on the promise of great mpg, but are then hit with large maintenance bills. If you mostly drive around urban areas, green car buyers would be better off with a hybrid.
That said, if you drive at least 16,000 miles a year on long trips, the most fuel-efficient diesel is the car to go for. Diesel cars do well from the current car tax structure. When comparing new models, check the showroom car tax information.
Car

Cost

Official mpg

CO2/km

Cost of driving 10,000 miles*

Vehicle tax

Congestion charge exempt

*Based on a series of assumptions: 10,000 miles of which half is driven in urban areas. Petrol price 130p/litre and diesel 138p/litre, plus an average of £2.50 a day to recharge electric models. Real cost will entirely depend on roads driven/and distance between recharge. Many councils provide free recharging points which would bring down costs dramatically.

Vauxhall Ampera (electric)
29995
235.4
27g
1012
0
Yes
Toyota Prius Plug in (petrol hybrid)
27895
134.5
49g
1037
0
Yes
Honda insight (petrol hybrid)
19535
68.9
96g
1337
0
Yes
Toyota 7 seat Prius+ (petrol hybrid)
26195
68.9
96g
1075
0
Yes
Honda Jazz (petrol hybrid)
16300
62.8
104g
1750
0
No
Toyota Yaris (petrol hybrid)
15895
89
79g
1075
0
Yes
Peugeot 3008 (diesel hybrid)
26996
74.4
99g
845
0
Yes
Mercedes 300 BlueTec (diesel hybrid)
40000
65.7
109g
1140
0
No
Kia Cee'd 11.6 CRDi
16295
76.3
97g
1012
0
Yes
And a conventional engined car …
Ford Focus 1.6 Zetec
17200
47.9
136g
1643
120
No
Star choice: Toyota Yaris hybrid
For not much more than it will cost you to buy a standard five-door petrol model – a shade under £15,000 compared with around £12,800 – Money's top pick of green car purchases is the Toyota Yaris hybrid which offers close to 80mpg. It won't be big enough for everyone, but if you need something that will get you to work and the shops while handling the school run and the occasional longer journey, this is it.
With a CO2 emission count of 80g/km, it is likely to be exempt from the London congestion charge for some time. Someone switching from a 30mpg car to the hybrid Yaris and doing 12,000 miles a year could save £1,400 in lower fuel bills alone. As petrol prices rise – and oil prices are already on their way up – the savings only grow bigger.
We haven't driven it, but reports from those that have say it is good, and, crucially, manages to get close to its claimed consumption figure. If you are in the market for a new, small, eco-friendly car with low running costs, try one out. On paper it can't be beaten.
Its main rival, the hybrid Honda Jazz, is also worth looking at as it is slightly bigger, although those in the know suggest that it doesn't quite beat the Yaris.
Climb behind the wheel, hit the "power" button and a host of lights on the dashboard leap into life. The car's range in electric mode, you immediately learn, is 50 miles, plus a further 310 in petrol-powered reserve. You shift the automatic lever into drive, and it moves silently out into the traffic. The lack of any engine noise apart, this car goes like any other executive car – albeit with a slightly smaller interior than most. Welcome to the Vauxhall Ampera, hailed by its fans as the first "e-car" that, crucially, has the range to take you any place you care to go.
This week Guardian Money examines the host of super-green cars to hit UK showrooms in the past few months and assesses whether they are now a serious alternative to conventional cars or remain rich people's toys.
The petrol savings are eye-watering. Charging an Ampera to go 50 miles will set you back around £2.50–£3, or nothing at all if you can access council-installed charging posts. Unlike other electric cars, this one has a petrol engine that will keep the wheels turning after the charge runs out. There's no vehicle tax or congestion charge to pay. But the purchase cost is very high; £30,000 after the government's £5,000 grant still makes it twice the price of the cheapest Ford Focus or £10,000 more than a standard Ford Mondeo. The hours spent recharging will also put many people off. Overall, our analysis suggests that while the Ampera can, for some drivers, deliver financial gains, most average motorists will find that a Toyota Yaris hybrid, at under £15,000, is a more realistic option.
The Ampera – voted UK Car of the Year 2012 – was launched in the United States as the Chevvy Volt, and sales initially tanked, delighting right-wing commentators who derided it as the "Obama-car". But more recently, especially in California, sales have begun rising, although sales of other electric cars, such as the Nissan Leaf have been miserable.
Will e-cars catch on in the UK? Money did the number-crunching and found that someone currently driving a 35mpg petrol car 80 miles every working day (around 20,000 miles a year) should save around £3,000 a year in petrol by switching to an Ampera – but, crucially, they will need somewhere to charge the car at work and at home.
Anyone living in a flat, or even a terraced house without a drive, will find it impractical to charge up the car unless they live in areas such as Brighton, Birmingham and large parts of London, where free charging posts are now relatively common (they are even popping up at motorway service stations). Run the car for a decade, though you will easily make enough savings on petrol to justify the initial price tag.
The alternative is to buy a hybrid (petrol/electric) car, available for less than £15,000 – not much more than it costs to buy a new standard diesel model.
"Range anxiety" has long been the issue (after price) that deters buyers. The all-electric Nissan Leaf can only cover 90 miles before a recharge, and then it's not like filling up at a petrol station – it will take four hours or more. This is Ampera's trump card, as it can be driven on as an electric-only car – for the cost of just a few pounds in electricity – and still be taken on a 300-mile trip with the help of its petrol back-up.
If you're wondering why the Ampera qualifies as an electric car rather than a hybrid it's because the Ampera is always powered electrically. Its 1.4-litre petrol engine only comes life when the battery becomes depleted, feeding enough power back to the battery to keep the car going.
Crucially, it's the electric engine only that drives the car. In a hybrid, the petrol engine drives the car above certain low speeds.
Vehicle renting company Zipcar, one of the first major buyers of the Ampera, offered us a test drive, and we were genuinely impressed. What strikes you first is that, unlike some other electric cars, the American-built Ampera has an executive, well put-together feel, and its relaxed drive is well suited to urban motoring.
Put the car in "normal" driving mode, and it does the rest. On a four-hour, high-power, charge – or six hours plugged to a household socket – it will go almost 50 miles of normal driving in electric mode before the petrol engine helps out.
Officially, the Ampera offers 235.4mpg, but in theory, if you drive 40 miles to work, give it a full charge, then drive home, you won't use a drop of petrol. Meanwhile, every time you brake, the energy is recycled to recharge the battery.
Inside the four-door car the battery takes up some room. As a result the interior is smaller than you might expect – similar to a compact exec car. There are two rear seats which would be OK for children, but accommodating two Olympic hammer throwers would be struggle. The rear visibility isn't great, but there is a reversing camera in the dash, along with a very swish satnav. The hatchback boot space is small for a car of this size, but not absurdly so.
Contrary to what many people think about electric cars, the acceleration is great. Vauxhall says 0-60mph is achieved in nine seconds and the car will go up to a top speed of 100mph. Running in petrol-generating mode the car appears to return around 40mpg, until it can be recharged.
The Ampera is backed by a "lifetime/100,000 mile new vehicle warranty", while the battery system has an eight-year/100,000 mile warranty, transferable to subsequent owners. Servicing is annual, at one of the 24 dealers supplying this car in the UK. Insurance is likely to be the same or a little higher than comparable-sized conventional cars. Reliability and battery life remain the big unknowns, as are likely resale values (though Zipcar says early signs are encouraging). The 100,000- mile warranty should ease some buyers' fears, but to pay out £30,000 on such a car is still something of a leap of faith.
Ultimately, the price tag is likely to put off all but the most committed of buyers. However, if you drive to work and have access to recharging points, it's worth trying an Ampera and seeing if the sums work for you, particularly if you pay company car tax. A stress-free option could be to lease one. Contracts can be had from around £400 a month, which sounds a lot until you realise your fuel bills could be a fraction of what they are now.
The Mini E – is this the future of eco-friendly driving?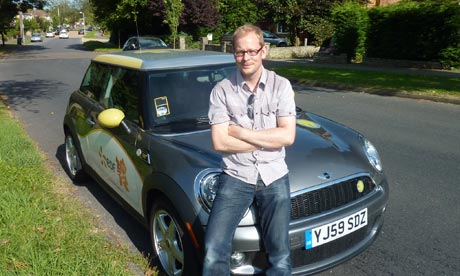 Whoosh: Mark King and the BMW Mini E. Photograph: Katia KingI've never turned heads driving a 10-year-old Volkswagen Golf, but pootling along the residential streets near my Sussex home in a prototype Mini E seemed to attract admiring stares from pedestrians. Perhaps they were as fascinated as I was by the eerie Star Trek whooshing noise the car makes.
BMW has taken an existing Mini shell and retro-fitted it with battery power to create the Mini E, a fully electric vehicle. When it arrived on my doorstep – a loan from EDF Energy – one major drawback was immediately obvious: it requires so many batteries to power it that there is no back seat. For a family of three this makes the Mini E somewhat impractical; it's for one driver and a single passenger.
At least as it gave me a chance to see how the car handles – and boy, does it handle well. With instant acceleration, there's no delay between touching the pedal and moving forward. Touch it too hard and you're thrown back in your seat. It's fast. Really fast.
The speedometer indicated the car might be able to reach speeds of up to 160mph, though I was told BMW had capped my vehicle at 95mph. When I ventured on to the A23 near Brighton, I (safely) floored it and discovered the car had no problems reaching a legal 70mph. It kicks myths about electric cars being like milk floats firmly into touch.
But a feature known as "regenerative braking" was hard to get used to. In order to put juice back into the battery, and prolong the range of the car, it brakes of its own accord the second you lift your foot off the accelerator. When approaching junctions this can be useful, but if you're used to gently easing off the accelerator and cruising slowly to a natural stop it's disconcerting at best and irritating at worst.
Speed-freaks might be frustrated too. The faster you go, the more charge you use up, and there are far fewer charging points than petrol stations. In some ways this makes it safer for other road users and pedestrians because it encourages slower, responsible driving, although the car's near-silence means you might worry that pedestrians can't hear you approaching.
Clearly, it's that all-important range that is the big question. The Mini E I tested was locked to accept only a 12-volt charge, which meant it took eight hours to fully charge the battery (a 30-volt charge would halve this time). And for your eight hours you get about 100 to 110 miles, making it only really practical for someone who can charge it at home – but this requires a piece of kit costing around £800 to ensure your mains electricity is safe. Without home-charging, you'll quickly develop "range anxiety" – constantly worrying about how much juice you have left.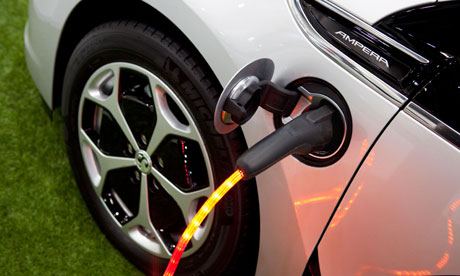 Charging a Vauxhall Ampera, which can go 50 miles on £2.50 of electricity and is exempt from tax. Photograph: Alamy
There are plenty of electric car charging points in Brighton and I had no trouble finding one; most are free to use at the moment. While I knew I wouldn't be giving it a full charge (I didn't fancy hanging around for eight hours), I had to laugh when I looked up at the sign that read: "Max stay three hours" – that wouldn't get me half-charged let alone fully topped up. To be fair, that's an issue for the local council rather than BMW or Mini, but it does make you wonder how councils will cope if electric vehicles do take off. Will all public charging spaces become ridiculously busy? Will councils introduce fees for using them? Will they build more to cope with demand?
The estimated 3p a mile running cost would more than halve my current expenditure, but the range of the car and the tiny interior makes it impractical for my family, and if you do wish to drive far, you'd have to make repeated stops to boost your battery.
If you're single, in a couple or run a city-based business, it'll be much more appealing, but even then a fully electric car will be no good if you live in an block of flats or do not have a garage, driveway or parking spot near your property. Mark King
Miles Brignall, www.guardian.co.uk/profile/milesbrignall