India contributes 14% of Gamesa's total sales in the first half of 2012.
The contract -the first signed with this independent power producer- includes the commission of 50 MW of G97-2.0 MW and 24.65 MW of G58-850 kW machines.
Largest order for the G97-2.0 MW platform in Maharashtra.
Gamesa, a global technology leader in wind energy -through its subsidiary in India- has bagged an order from ReNew Wind Energy P Ltd (Jath) -subsidiary of ReNew Wind Power- for commissioning 74.65 MW of wind turbines. The order -the first one signed with this Independent Power Producer (IPP)- includes 50 MW of G97- 2.0 MW and 24.65 MW of G58-850 kW machines.
The order from ReNew Wind Energy will stand complete this year and the machines will be installed in Maharashtra. In fact, this contract is the largest order for the G97-2.0 MW in this Indian state. The G97-2.0 MW turbine has been especially designed for low-wind sites such as Maharashtra, and was launched by the company earlier this year.
"The new 74.65 MW order from ReNew Power to Gamesa India comes as a real booster dose for the overall wind energy sector, reassuring and strengthening the wind energy market confidence. With the induction of ReNew Power into the large customer base of Gamesa in India, our company further strengthens the credibility that enjoys in the growing Indian wind industry", Mr. Ramesh Kymal, Chairman and Managing Director of Gamesa in India. "With this order, Gamesa India's overall presence and visibility would increase in the entire State of Maharashtra especially in the most successful G97-2.0 MW platform".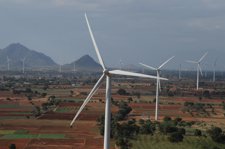 Mr. Sumant Sinha, Chairman and CEO, ReNew Power said "We are glad to partner with trusted manufacturer such as Gamesa and look forward to many years of good performance from new G97-2.0 MW machines. With this order we further establish the vision of rapidly expanding our footprint in the growing Indian wind energy market. This is another such partnership and an important step towards positioning ReNew as one of the leading Renewable IPP in India".
The growing orders from IPPs establish Gamesa's position as a one of the leading manufacturers of the country, despite the slowdown affecting the sector right now. In fact, over the last year, Gamesa in India has observed an increasing presence from IPPs in its orders book. The wind turbine major has also bagged large orders from PSU's like GAIL, Oil India, NREDC, in the past.