Both the House and Senate approved plans to install public charging stations for electric vehicles earlier this month, and President Barack Obama signed those laws late last week. But in conversations with more than a dozen relevant Capitol Hill offices, Influence Alley could only track down one staffer with an electric car.
Capitol Hill infrastructure is known more for its oddities — like the inaccessible fifth floor of the Cannon building — than for its modernity. The latest approved development, however, may actually be ahead of demand.
Callie Coffman, who serves as chief of staff for Rep.Dale Kildee, D-Mich., currently charges her 2011 Chevrolet Volt at Union Station or Pentagon City Mall. Kildee was the sponsor of the House legislation that approved the stations.
"I live in a condo on Capitol Hill where I don't have access to an outlet to charge my car on a regular basis. Having the ability to charge at work would be convenient," Coffman said in an email.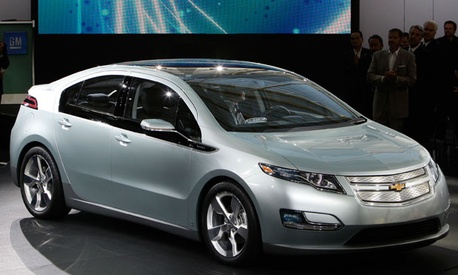 The Chevrolet Volt
At least two senators drive electric vehicles, though neither has yet made explicit plans to use the Capitol charging stations. Sen. Carl Levin, D-Mich., drives a Chevrolet Volt, and Sen. Lamar Alexander, R-Tenn., drives a Nissan Leaf. Both were sponsors of the legislation to approve stations for Senate parking lots.
Though few staffers currently drive electric cars, the sponsors of the legislation hope the stations will act as incentive for staffers considering purchasing one. There are only about 55,000 electric vehicles on the road, according to a CBS projection, which falls well short of Obama's goals to have 1 million electric vehicles on the road by 2015.
We "need to take steps to ensure the infrastructure exists to make these vehicles desirable and accessible to consumers," Levin said in a floor statement after the bill passed.
Sen. Jeff Merkley, D- Ore., a sponsor of the Senate legislation, agrees with Levin on the importance of encouraging electric vehicle use. He recently drove across his state in an electric car, noting firsthand the importance of convenient charging stations.
"If we are going to increase the use of electric vehicles across the nation, we need to make sure we have the necessary charging infrastructure," Merkley spokeswoman Courtney Warner-Crowell said in an email, adding "Helping encourage more electric vehicles across the country and ensuring we have the necessary infrastructure for an EV future is crucial."
The Architect of the Capitol is still working out details like when, where and how the stations will be installed, according to spokeswoman Eva Malecki. The legislation passed by both the House and the Senate requires that none of the electricity used be paid for by taxpayers. Users will instead pay a fee to cover their electricity and the installation and maintenance of the stations.