The installation of a giant offshore wind turbine with an installed capacity of 16 megawatts has started in southeast China's Fujian Province and is expected to be completed in a few days.
The wheel hub of the wind turbine is 152 meters high, equal to the height of a 50-story building, and is 34 meters higher than that of normally applied 10-megawatt offshore wind turbines.
Fitted with 123-meter-long blades, the wind turbine can sweep an area of about 50,000 square meters, equivalent to seven standard football fields.
When running at rated power, the turbine generates 34.2 kilowatt-hours of electricity per rotation, which can support a family of three for a week. It can generate more than 66 million kilowatt-hours of clean electricity per year, meeting the annual electricity needs of 36,000 households.
Homegrown core components
The power generation system, which is responsible for converting wind energy captured by the impeller into electricity, is one of the most critical parts of offshore wind turbines.
The self-developed generator of the 16-megawatt offshore wind turbine has realized a weight reduction to about 20 tonnes, marking a technological breakthrough in the miniaturization of large-capacity generators.
Its large main shaft bearing and ultra-long, lightweight blades are also domestically produced.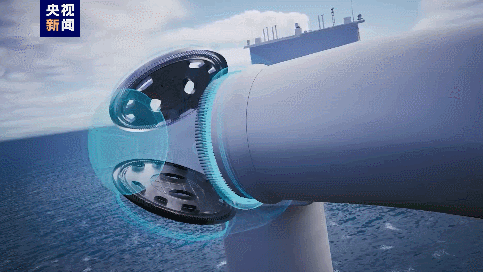 Hundreds of sensors also cover the wind turbine along with laser radar that can sense temperature, humidity and wind speed to track the operating status. Empowered by intelligent systems, it can automatically adjust the angle and regulate the power when facing harsh weather conditions.
The application of digital and intelligent systems improves the environmental adaptability of the wind turbine, making it possible to be widely applied on the southeastern coast of China.
The platform used for the installation work is known as Baihetan, China's fourth-generation offshore wind power installation platform with a lifting capacity of 2,000 tonnes.
It is one of the country's most advanced self-elevating and self-propelled wind power installation platforms that can operate as deep as 70 meters underwater.