Seven initiatives are awarded to integrate large electrolysers in industrial environments of five autonomous communities
60% of the funds of the call are allocated to projects in Just Transition and Demographic Challenge areas
The Ministry for the Ecological Transition and the Demographic Challenge (MITECO) has granted 100 million euros in aid to innovative projects of large electrolyzers for the production of renewable hydrogen, corresponding to Line 3 of the H2 Value Chain Program, whose final resolution, post today, it's available here. The program is included in the Strategic Project for the Reconstruction and Economic Transformation of Renewable Energies, Renewable Hydrogen and Storage (PERTE ERHA) and seeks to promote both the development of electrolysis demonstrators and initiatives for the real integration of large-capacity electrolyzers in industrial environments. .
Managed by the Institute for Energy Diversification and Saving (IDAE), a body dependent on MITECO, the program has awarded aid for amounts of 10 and 15 million to seven projects in five autonomous communities: Andalusia (3), Valencian Community , Asturias, Galicia and Castilla-La Mancha. A total of 60 million have corresponded to initiatives in Just Transition and Demographic Challenge areas, such as the surroundings of the old thermal power plants of Carboneras (Almería), Meirama (A Coruña), or the Aboño thermoelectric complex (Asturias), among others.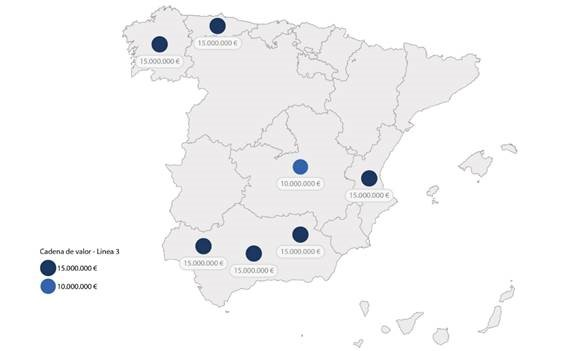 .
In the resolution of the call, factors such as the reduction of emissions, job creation and gender equality have been considered. The selected projects are obliged to respect the guiding principle of "not causing significant harm to the environment".
MITECO advances in promoting the production and use of hydrogen, both in projects with commercial viability and its integration in sectors that are difficult to decarbonise, such as industry and heavy mobility, as well as in industrial research and the development of innovative solutions in experimental environments. . Line 4 of the H2 Value Chain program will close soon, with 40 million to promote basic research, and the second call for H2 Pioneers has just been launched, with 150 million for innovative and integrated initiatives for the local production and consumption of renewable hydrogen.
RENEWABLE H2: A COUNTRY PROJECT
The aid regulated by these calls is framed in Component 9 'Roadmap for renewable hydrogen and its sectoral integration' of the Recovery, Transformation and Resilience Plan (PRTR) and, in particular, in its Investment 1: 'Renewable hydrogen: a country project'. These are calls with a prominent role within PERTE ERHA, a complete program of instruments and measures to develop technology, knowledge, industrial capacities and new business models that reinforce Spain's leadership position in the field of clean energy.
EL PERTE ERHA will mobilize an investment of more than 16,300 million, between contributions from the Recovery Plan and private funds. In general, financial support will be granted through calls for competitive bidding to select the best projects.
Likewise, through the deployment of this aid mechanism, progress is made in achieving the objectives of the Hydrogen Roadmap, a strategic document to promote renewable hydrogen. Among other objectives, it aspires to reach an electrolysis capacity of 300 MW to 600 MW in 2024 and 4 GW in 2030, 10% of the community objective, which demonstrates the ambition of our country to be a fundamental actor within the context European.