As we move to net zero, demand for fossil free electricity is going to increase significantly. The electrification of transport, industry and heat is expected to require at least double the electricity generation we have now. Floating wind turbines is one of the solutions to meet the demand.
Leading European energy company Vattenfall currently has 4.5 GW of offshore wind under construction and in operation and has more than 15 GW of projects in the development pipeline. Offshore wind farms are crucial to accelerate the energy transition away from fossil fuels, securing a sustainable and independent energy supply. But the space to build traditional offshore wind farms in the shallow waters along our coastlines is limited.
Ane Mette Lysbech-Kleis, Head of Development at Vattenfall Offshore believes that new, innovative wind farms are the solution to unlocking the full potential of offshore wind. Wind turbines installed on floating foundations are key to this growth. A major shift from monopiles (fixed to the seabed) to floating is expected over the next few years with min. 40 per cent of wind farms worldwide expected to be floating instead of fixed to the seabed.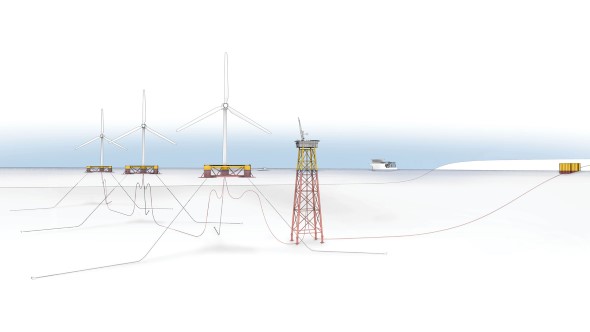 Deep waters
It sounds impossible, building 200-metre-tall wind turbines on top of large floating foundations, but floating wind turbines are key to looking further offshore, where it is not possible to install traditional wind turbine foundations into the seabed.
"If we want to be fossil fuel free within one generation, we need to install a lot more offshore wind and look for new areas for development. Current turbines are being built in waters with a depth of up to around 50 metres, where the monopiles are piled into the seabed. To expand our developments into deeper waters and areas where the seabed is made up of rock or mud, we need to make the transition from small-scale floating wind projects and one-off designs to commercial-scale developments," says Lysbech-Kleis.
"There are multiple advantages to floating wind," says Lysbech-Kleis. "Firstly, we can produce more wind energy by including new areas. Secondly, the turbines are installed onto the floating foundations onshore and then towed into position out at sea by tugboats. This removes the need for large vessels to install the monopile foundations into the seabed and erect the wind turbines onto the foundations. We believe this is an advantage both in lowering costs and also for safety reasons, as the big lifts will be carried out in a more controlled environment rather than out to sea. Also, when it comes to maintenance, the floating wind turbine can be towed to the shore where large repairs can be performed, comparable to working on an onshore turbine, avoiding complicated lifts and work at sea.
"Furthermore, floating wind can reduce environmental impacts as no monopiles need to be secured into the seabed and installation creates less noise compared to a wind turbine with foundations."
All-round flexibility
There are currently dozens of different types of designs and anchor systems in development. "Selecting the right one or ones for the areas we will be operating in is an ongoing process right now, but we already have a good idea of which ones we will go with," says Lysbech-Kleis.
The cabling infrastructure used to connect the wind farm to the mainland or substation at sea is another example of the flexibility floating wind can offer. Instead of a static line, the floating wind turbines are connected by dynamic cables though a buoyancy element that absorbs the movements of the floating turbine. This is a known and commonly used technology from the oil and gas sector. The dynamic cable can be connected and disconnected to a static line that leads to a substation.
Floating wind farms can seem like a futuristic concept. But Lysbech-Kleis believes that it will be a different story in five years, with the technology enabling a market for floating wind energy. "Through a joint venture with the Norwegian company Seagust, Vattenfall is considering bidding for licenses for both fixed and floating offshore wind energy in Norway. In the coming years, Vattenfall will also invest in the expansion and development of fixed and floating offshore wind energy in Sweden, Denmark, Finland, the Netherlands, Germany, France, and United Kingdom where there is already a joint venture between Vattenfall and Fred. Olsen Seawind to develop the Muir Mhòr floating offshore wind farm project located off the east coast of Scotland.
"We are currently seeing very ambitious buildout plans from governments across our markets. However, there are obstacles when it comes to growing the footprint of offshore wind. At this point we are lacking a robust supply chain both for foundations and turbines to support anticipated growth. The current market conditions with rapidly increasing raw material prices, steel scarcity and inflation means that the certainty of a pipeline of work is needed for suppliers to take investment decisions before they start building new factories. This certainty can come from developers like Vattenfall too, but to do this we need to know that we will get the building permits. Bringing this certainty to the industry, working with all relevant stakeholders, is something we spend a lot of time on, to ensure we make it happen."