Dubai Electricity and Water Authority announces completion of 128 pillars of the Mohammed bin Rashid Al Maktoum Concentrated Solar Power Park's solar tower.
The fourth phase of the park is the largest single-site investment project in concentrated solar power (CSP) in the world based on the independent power producer (IPP) model.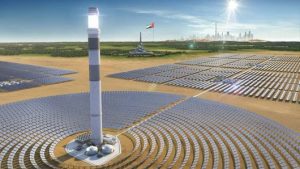 Saeed Mohammed Al Tayer, managing director and CEO of DEWA announced the latest updates on the progress of the project during a visit to review the construction work.
Featuring a total investment of AED50 billion, the park will reach a total capacity of 5,000 megawatts (MW) by 2030, he said.
Al Tayer was briefed on the progress of construction work by Abdul Hamid Al Muhaidib, executive managing director of Noor Energy 1, a venture formed through a partnership between DEWA, Saudi Arabia's ACWA Power and China's Silk Road Fund to build the fourth phase of the Park.
The fourth phase of the solar Park will use three technologies to produce 950MW of clean energy, 600MW from a parabolic basin complex, 100MW from a solar tower, and 250MW will be generated from photovoltaic panels.
It will have the world's tallest solar tower, at 260 metres, and the largest thermal energy storage capacity in the world of 15 hours, which allows for energy generation round the clock.
The 13MW photovoltaic first phase of the solar park became operational in 2013. The 200MW photovoltaic second phase of the solar park was launched in March 2017 while the 200MW first stage of the 800MW photovoltaic third phase became operational in May 2018. The third phase will be completed in 2020.
29-12-2018|Categories: BREAKING NEWS, NEWS, Sin categoría, Storage, Top News|Tags: Acwa Power, Concentrated Solar Power, CSP, Dubai, Dubai Electricity and Water Authority, PV, Silk Road Fund, tower, UAE
Construction progresses on final phase of Dubai concentrated solar power park