One of a new "Windsights" series highlighting insights from the WINDPOWER 2015 Conference & Exhibition – in the words of the experts themselves.
When considering the wind energy integration challenges faced by the industry just ten years ago, it is incredible to think where we are today.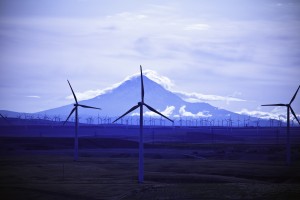 The main Texas grid system (ERCOT) regularly sets new wind generation records, sometimes serving up to 40 percent of energy demand, and the New England ISO is currently working to make wind a fully dispatchable power source. Credit for this progress is due to changes in transmission and market structuring, but also in part to major advances in wind power forecasting.
From wind farm operators to system operators, energy schedulers, and marketers, more energy stakeholders rely on wind forecasts for their daily decision-making and power-integration planning than ever before. Widespread adoption and vast improvements in the reliability of forecasting technology have yielded great results.
Yet what remains less clear is where to next focus attention to deliver the best value to the industry. What incremental improvements either currently under development or still to be identified will have the greatest impact on lowering integration costs?
This exact subject will be addressed in one of today's sessions ("Connecting the Dots: Understanding the Value of Improved Wind Energy Forecasts," 9 a.m.), where session chair Dr. Pascal Storck, Global Manager of Energy Services at Vaisala, brings together experts from across the industry, including the U.S. Department of Energy (DOE). Speakers will be presenting their latest research and solutions to a variety of forecasting challenges.
The Mid-Continent System Operator (MISO), ERCOT, and California System Operator (CAISO) markets each have significant wind penetration, and wind is often the price driver for excursions in real-time market pricing. Dr. Craig Collier, Regional Practice Manager of Power Forecasting at DNV-GL, will be sharing a case study that offers a unique way to value wind forecasts and justifies the use of multiple wind forecasts for optimum energy marketing.
Dr. Justin Sharp, Principal at consultancy Sharply Focused LLC, will also be evaluating wind forecast value for operational and market stakeholders based on his years of operational forecast experience, as well as more recent work helping utilities with forecasting trial intercomparisons.
Dr. Branko Kosovic, Renewable Energy Program Manager at NCAR, will focus on scientific advances to forecasting. In partnership with Xcel Energy, NCAR has been exploring and evaluating methods for short-term wind ramp detection, uncertainty, and extreme event forecasting such as icing and snow.
Finally, Joel Cline, Meteorologist and Project Manager at DOE, will update the audience on the current status of the department's various research projects and future strategy. This will include details from the DOE-funded Wind Forecasting Improvement Project (WFIP2) announced earlier this year, an effort Vaisala and its partners were selected to coordinate to improve forecasting in complex terrain. Mr. Cline will also be introducing an exciting new initiative called Atmosphere to Electrons (A2e) that allows multi-lab, multi-year research for wind characterization.