U.S. Trade and Development Agency awarded a grant to the Ministry of Natural Resources, Energy and Mining (MNREM) of the Republic of Malawi.  The grant will fund a feasibility study to support the development of a hydropower plant on the Luweya River, located in the Nkhata Bay District in Malawi's Northern Region.
"This grant represents an important step forward in expanding business linkages between Malawi and the United States and our on-going partnership in the energy sector," said U.S. Chargé d'Affaires Michael Gonzales of the grant signing ceremony.  "The project will also benefit from – and expand upon – the Millennium Challenge Corporation's infrastructure development and power sector reform projects, which are improving the availability, reliability and quality of Malawi's electric power supply."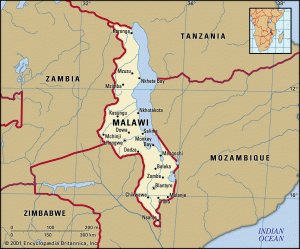 "The government has embarked on working with independent power producers," said MNREM Principal Secretary Ben Botolo, who signed the grant along with USTDA's Country Manager for Southern Africa, Michael DeRenzo. "The support of USTDA and Water Wheel International will go a long way in the development of the energy sector in the country.  This development supports the major power sector investment by the U.S. government, through the Millennium Challenge Corporation, whereby revamping of the power transmission system is underway across the country."
MNREM has selected Water Wheel International, a U.S. hydropower developer headquartered in Bedford, Texas, to carry out the feasibility study.  The first phase of the hydropower project will consist of a 15 megawatt (MW) run-of-river system, which could be expanded in a second phase to 35 MW using Water Wheel International's patented system.
By supporting the development of a new renewable energy generation facility in Malawi, this project supports the goals of Power Africa, a U.S. government-led initiative to increase electricity access across the continent.  It also builds upon the Malawi Power Sector Opportunities Reverse Trade Mission, which USTDA hosted in November 2014 to connect officials from Malawi's energy sector to U.S. experts and solutions that can help them meet their development goals.
The U.S. Trade and Development Agency helps companies create U.S. jobs through the export of U.S. goods and services for priority development projects in emerging economies. USTDA links U.S. businesses to export opportunities by funding project planning activities, pilot projects, and reverse trade missions while creating sustainable infrastructure and economic growth in partner countries.