According to the new report from BCC Research, the global wind energy market was worth $130 billion in 2013 and $165.5 billion in 2014.
The market is expected to grow at a compound annual growth rate (CAGR) of 7.2% between 2015 and 2020 resulting in $176.2 billion in 2015 and $250 billion in 2020.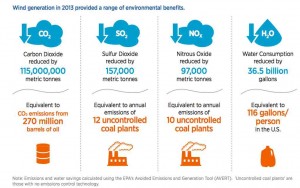 Wind energy is a reliable source of generating renewable energy, and has been established as one of the most preferred methods for generating renewable energy in several nations. The wind energy industry can be broadly classified into onshore and offshore. The former technology has achieved a certain degree of maturity, though costs can be reduced through material diversification and technology innovation. The latter, on the other hand, has the potential to deliver the greatest benefits and is anticipated to take off in the near future.
Asia-Pacific is the major market in the onshore wind energy sector, with China and India spearheading growth in the region. Government subsidies and wind energy targets are some of the factors driving investments in the onshore wind energy industry. Europe was once a major center for onshore wind development, but the region is still reeling from the economic crisis. Capacity installations are likely to pick up as the economy recovers further. Brazil is predicted to be an attractive market for wind power developers in Latin America. The onshore wind energy industries in Argentina and Costa Rica have exhibited promising development.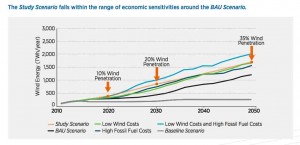 "Wind energy has great potential to lessen our dependence on traditional resources like oil, gas and coal, and to do it without as much damage to the environment," says BCC Research energy and resources analyst Srinivasa Rajaram. "With largely untapped wind energy resources around the globe and declining wind energy costs, the world is now moving forward with an aggressive initiative to accelerate the progress of wind technology, and further reduce its costs, to create new jobs and to improve environmental quality."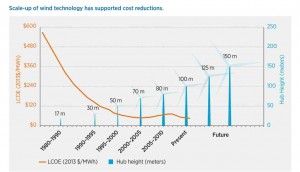 Being capital intensive, wind energy has no fuel costs. The price of wind power is therefore much more stable than the volatile prices of fossil fuel sources. There are now longer and lighter wind turbine blades, improvements in turbine performance and increased power generation efficiency. Compared with other low carbon power sources, wind turbines have some of the lowest global warming potential per unit of electrical energy generated.
Wind Energy: Global Markets measures and forecasts the global market for wind turbines and looks at the wind turbine installation and purchasing trends in some of the countries along with their growth potential. Revenue forecasts are provided through 2020.