M/s Master Wind Energy Limited (MWEL), a subsidiary of Master Group, has secured Letter of Intent (LOI) from Alternative Energy Development Board (AEDB) for the development of 49.50 MW wind power project in Jhampir, district Thatta, Sindh under Policy for the Development of Renewable Energy for Power Generation 2006.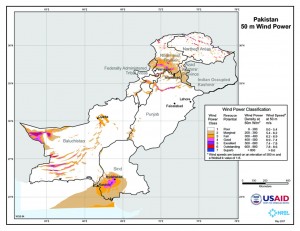 MWEL has received the generation license and tariff from Nepra under Upfront tariff regime. M/s MWEL has finalised the Energy Purchase Agreement (EPA) with Central Power Purchasing Agency (CPPA).  The Implementation Agreement (IA), to be signed between AEDB and M/s MWEL has been finalised and today AEDB is signing the IA with M/s MWEL.
The project is expected to achieve Financial Close by 31 March 2015 and Commercial Operation by September 2016. The estimated project cost of 49.50 MW M/s MWEL project is $125 million. It will be spread over 1408 acres of land.  The financing structure of project is 75pc debt and 25pc equity. The project is financed by OPIC and consortium of local banks.