German company Emercon's E-Ship 1, the world's first wind energy cargo vessel, arrived in the port of Montevideo this week to a warm welcome from Uruguayan politicians and business leaders.
The 130-meter (425-feet) long vessel departed from Germany in November and docked here this week with the equipment for the installation of 50 turbines at the Peralta GCEE Wind Farm in the northern province of Tacuarembo.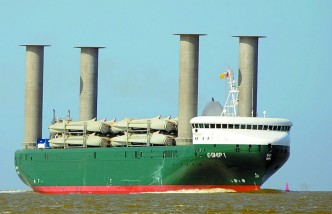 The $300 million Peralta project will generate up to 650 new jobs in the construction phase, according to Enercon Uruguay.
The German turbine-maker relied on wind for the ship's propulsion with four 25-meter (82-feet) tall and 4-meter (13-feet) wide rotors raised on the vessel's prow and stern.
A hybrid system including seven diesel generators powers two engines that drive the ship's propeller, while exhaust gases push the four rotors.
The system achieves a 25 percent saving in fuel and eliminates 5,000 tons in carbon-dioxide emissions, according to the company.
German engineer Anton Flettner developed the system in 1920, Enercon said.
The vessel had her maiden voyage in 2010, a journey to Dublin to deliver wind turbines for Ireland's Castledockrell Wind Farm.
http://www.evwind.com/2015/01/09/uruguay-recibe-buque-con-aerogeneradores-de-enercon-movido-por-energia-eolica/
http://www.evwind.com/2015/01/06/uruguay-recibira-al-primer-buque-carguero-impulsado-por-energia-eolica-de-enercon/
http://santamarta-florez.blogspot.com.es/2015/01/uruguay-recibira-al-primer-buque.html?q=Enercon