President Ollanta Humala inaugurated the completion of a US$71 million wind farm project in Talara, located in Peru's northern Piura region.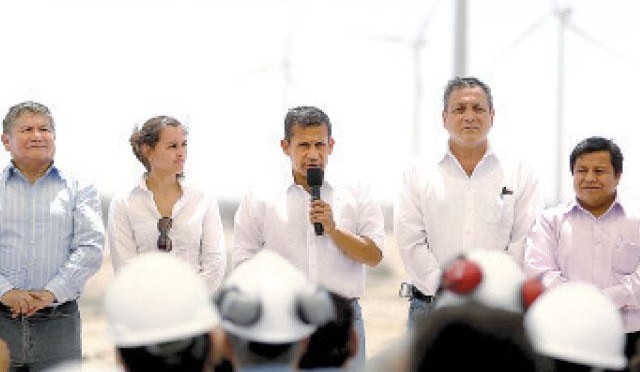 The 17 large wind turbines, each able to produce 1.8 megawatts of energy, will provide the Northern Peru electricity grid with power over the next 20 years.  The grid supplies power to Tumbes, Piura, Lambayeque, La Libertad, Cajamarca, and Ancash.
The Talara wind farm is part of a 113 MW project, built and operated by New-York based Contour Global, and works together with the Cupisnique wind farm, in Pacasmayo on the coast further south in La Libertad region, with an installed capacity of  of 83.15MW.
"This project will strengthen the northern electrical system, meeting the electrical energy demand that the country requires," Humala said.
In April this year, Peru's first wind farm was switched on at Marcona, on the south coast in Ica.  The 32MW project, built and operated by the Spanish Cobra Group,  is to be complemented by the Tres Hermanas substation.
Peru's energy largely comes from large hydroelectric dams and natural gas. Humala said that the wind project at Talara will not only be beneficial for the environment, but also help to diversify Peru's energy matrix.
"These deserts, with their wind potential, allow us to build wind farms," said Humala. "This is the third one after Marcona and La Libertad. I'm sure that if we go to Paita and Sechura, we'll also find conditions to continue expanding wind farms."