Opponents of wind energy have been accused of "playing on the public's fear of the unknown" and on public representatives' "aversion to conflict".
Irish Wind Energy Association (IWEA) chief operating officer Caitríona Diviney said opponents were ignoring the established facts in relation to wind farms and their chief tactic was to attempt to stall developments in the hope that they would go away.
Speaking at the IWEA's annual conference yesterday, she said the practice of seeking moratoriums on wind energy projects was part of that tactic. "Thankfully it is not near happening, but it is important to know what is at play here."
She said there was strong political and public support for wind energy that was not always reflected in the media, and that opponents often got a better hearing.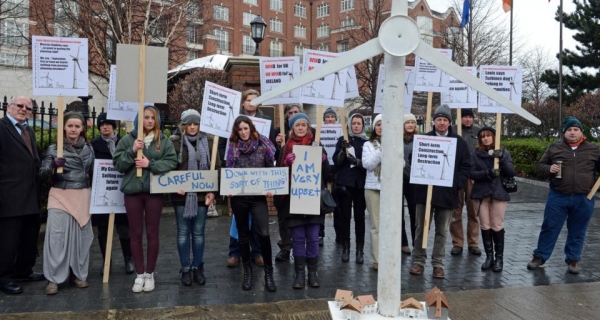 Protesters from the Laois Wind Energy Awareness Group, outside The Four Seasons Hotel yesterday, where the Irish Wind Energy Association annual conference was taking place, in Ballsbridge, Co Dublin, on Wednesday.
Opponents were given the chance to "say whatever they like even if it isn't factual", while the industry struggled to "get the good story in" because support for wind energy was not as "sensational or emotional" as opposition.
The IWEA has commissioned a poll which suggests that 80 per cent of the population supports wind power.
The Ipsos MRBI poll found a clear majority of the public in favour of wind power, with 53 per cent strongly in favour, with only 8 per cent firmly opposed.The IWEA claims the poll, conducted among 916 respondents last week, is a representative and scientific sample of public opinion.
The association has recommended that wind developers give local communities €1,000 a year for every megawatt of installed wind power, index-linked to account for inflation. It cited the Co Tipperary example of the Moyne/ Templetuohy Community Trust Fund, where €120,000 has been spent to date by Bord Gáis Energy, as an example of how a wind farm project could benefit the local community.
It said a "long-lasting community commitment" was key in achieving social acceptance over the lifetime of a project.
Visual impact
Gaelectric chief executive Brendan McGrath said visual impact should not be a consideration in granting planning permission for wind turbines.
He said turbines are tall and tended to be put on elevated sites, and it was a "cop-out" to include visual impact in the planning guidelines.
Mr McGrath said confronting wind opponents with facts was a "mistake". The wind energy industry was dominated by engineers who liked facts, but the public "ignore facts".
http://www.irishtimes.com/news/environment/big-majority-of-irish-public-favours-wind-energy-industry-poll-finds-1.1342396