The Japanese company has invested £420 million in the production of the car which will support 2,000 jobs in the UK's automotive industry.
The new version of the 100 percent electric car has more than 100 modifications and will roll off the line at the company's record-breaking Sunderland plant.
Rolling off the line at the Sunderland plant, the new Nissan Leaf model is the first mass-market electric car, running 100% on advanced lithium-ion batteries.
The Prime Minister was given a tour of the factory and shown a Nissan LEAF that was cut in half to display how it works inside.
The Conservative leader said: "This plant, all of the people who work here, the cars being produced behind me, are the best possible rebuke to those who say in Britain we don't design things anymore, we don't make things anymore.
"You have shown here at Nissan in Sunderland that we can and we can do it brilliantly."
The revised car looks largely like the old model, though Nissan says there are more than 100 changes, including an improved range and reduced charge time.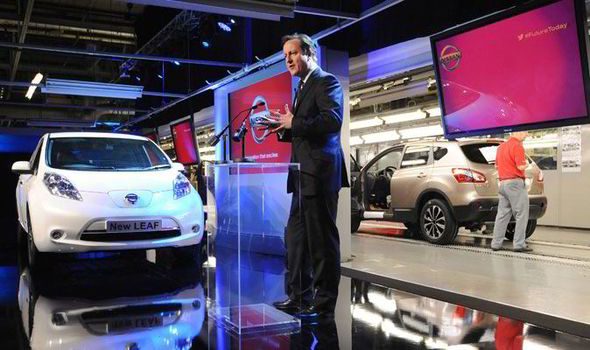 Production of the updated car is said to support more than 2,000 jobs in the UK automotive industry, including more than 500 directly at Nissan. It is the culmination of more than four years preparation and comes as the company celebrates the production of more than 7,000,000 vehicles at the Sunderland plant since it opened in 1986.
The Leaf is the world's best selling electric car, and the company hopes to continue this success with the new model. For the first time, the Leaf will be offered in three specification levels, adopting the standard structure from the rest of the Nissan range – Visia, Acenta and Tekna.
Entry-level Visia cars will get steel wheels, black mirror caps and halogen headlights, but will cost considerably less than the than the outgoing Nissan Leaf. Acenta models add 16-inch alloys and tinted rear windows, and cost around the same as the current base-spec car. Flagship Tekna cars get LED headlights, bigger wheels and an upgraded stereo.
Thanks to some clever packaging, all models will be more practical, too. By moving the charging unit, Nissan has created an extra 40-litres of boot space. It also gets an extra 15 miles of range – with the official figure now standing at 124 miles.
Nissan's green initiative is now in full swing and, in just 12 months, the company has increased the number of charging points in Europe from 12,000 to more than 20,000.
The new Nissan Leaf is available to order now, with all cars subject to the £5,000 government grant for plug-in vehicles. With the reduced list prices and revised equipment list, the eco-friendly family car is now more affordable than ever.