At a special press briefing organized by The International Press Association in Brussels last night, EU Energy Commissioner Günther Oettinger confirmed that he will be bringing forward proposals for post-2020 policy, before the current term of the Commission ends, which is 31 October 2014.
He said that the Council would talk about binding targets in an orientation debate and that he favoured binding targets. He also said that the targets will be "pragmatic" and "sensitive".
For 2020, the EU has committed to cutting its emissions to 20% below 1990 levels, as well as renewable energy and energy efficiency targets. A binding renewable energy target for 2030 would provide much needed confidence for the renewables industry, as well as secure commitment to tackle climate change from EU member states.
Oettinger was asked about the implications of the recently agreed EU budget for 2014-2020 on energy. He said "in the past, we developed energy policy without funding"…"In the past MFF, there was zero for infrastructure".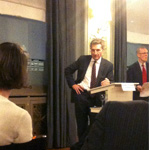 EU Energy Commissioner Günther Oettinger speaking in Brussels
Now, the 2014-2020 Multiannual Financial Framework has proposed €5bn for co-financing of projects of cross-European interests, such as electricity interconnectors, instead of the €9bn proposed by the Commission. Even so, this will result in a "complete pan-European infrastructure", said the Commissioner. With the new Multi-Annual Framework budget  "we have the financial resources to contribute and be a fair partner". Oettinger also emphasised the need for private investment in EU energy projects, and smart instruments being devised by the European Investment Bank with the Commission with which "we can get much more than €5bn".
By Tom Rowe, http://www.ewea.org/blog/