Protermosolar Secretary General, Luis Crespo, said that in just six weeks the Concentrating Solar Power (CSP) sector has lost 33% of their income and wondered "how can you trust a country that uses 13,000 million to attract investment and, once that CSP plants have been built, the next day sinking business expectations. "
The recent package reduces the Concentrated Solar Power revenue by more than 33%.
The package of measures adopted by the spanish government in recent weeks, with the general tax of 7%, the elimination of the premium to the share attributable to gas, which in the investment analysis was considered "a whole" with the premium and the removal of the option premium pool + approved today by the Council of Ministers, representing a cumulative impact over 30% reduction in income and puts solar thermal projects in default situation.
It is surprising to hear the Prime Minister claim legal certainty Spanish investments abroad when otherwise practiced in our country.
"This is a full-scale expropriation, so it's sarcastic (the Prime Minister, Mariano) Rajoy ask out denying legal certainty within. Argentinize That is Spain," he said, before accusing Industry estimates CSP costs to 1,600 million, when in fact was  1,200 million.
The solar thermal warning that international investors, which include large corporations begin shortly procedures for filing an international arbitration against Spain for the new taxation power, as there were "demonstrable and objectified" that new taxes are in the case of this technology, "retrospective and confiscatory".
Some 10,000 million solar investment is leveraged, and this amount, added to the nearly 20,000 million debt of photovoltaics, stands at about 30,000 million total leverage of solar technologies.
"Spain is a leader not only in solar ppower roduction, but also in the technology worldwide," states Protermosolar.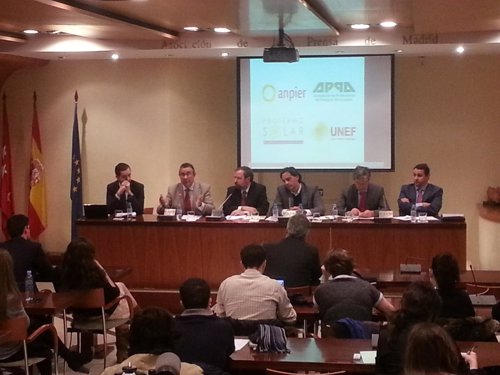 "The CSP industry could provide a significant benefit to the nation in foreign income, given the billion-dollar market that is emerging, if the development of companies is not restricted by retroactive measures announced in the energy reform."
Protermosolar notes that CSP received only 2% of the premiums collected under the nation's feed-in tariff, which was suspended in January 2012. The organization states that CSP has had a negligible effect on the tariff deficit to date.
http://www.helionoticias.es/noticia.php?id_not=1002