Ford, Nissan and Mercedes-Benz's parent company Daimler have announced an alliance to jointly-develop affordable hydrogen-powered vehicles that could be on the road as soon as 2017.
The effort is focused on bringing down the cost on fuel cells, which are devices that generate electricity through a chemical reaction that combines hydrogen and oxygen to make water. These cells would effectively replace the heavy, slow-to-charge and expensive battery packs used in most electric cars today.
Daimler, Ford and Nissan  plan to develop and launch affordable fuel-cell vehicles within five years, in the latest sign of increasing cooperation among automakers to meet ever-tighter global emissions rules.
Mercedes-Benz parent Daimler, whose hydrogen-powered car technologies are the most advanced but still prohibitively expensive, will pool investment with its Japanese and U.S. partners under a contract announced on Monday.
The program aims to cut the technology's costs and launch the world's first fuel-cell vehicles for the mass market in 2017, the companies said.
"We are firing the starting gun with this deal," Daimler development chief Thomas Weber told reporters in Nabern, home to the company's fuel-cell program. Combined sales volumes for the new models would reach six figures, he predicted.
By spreading development costs – and using Ford and Nissan's sales volumes to help cover them – Daimler is giving up some of its lead on the technology for faster implementation and a stronger business model.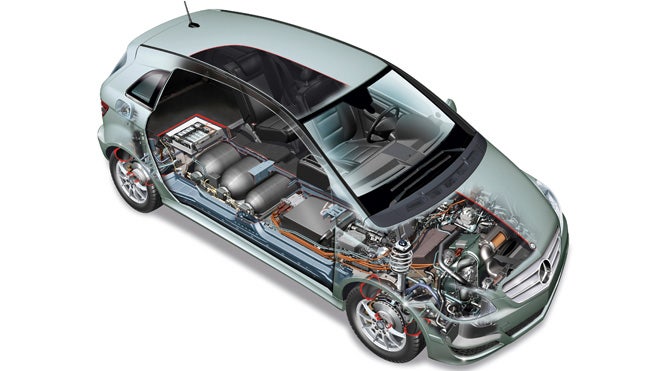 The hydrogen used in the process is stored in high-pressure tanks on board that can be refilled in a matter of minutes and is mixed with oxygen from the surrounding air.
The technology has been employed for years in space satellites and generators, but has proven to be too pricey for production cars. The trio of automakers hopes that by pooling their resources they will be able to accelerate the development of the technology and reach economies of scale that will allow it to be used in mainstream automobiles.
Mercedes-Benz is currently operating a small fleet of fuel cell-powered test cars called the F-Cell in California that are leased to drivers for $849 a month, a subsidized price that doesn't accurately represent the true cost of the vehicle. The company had planned to enter full production with the car in 2015, but last week said it was delaying the introduction do to the expected high costs of the program.
The three-way deal follows a similar announcement by Toyota and BMW, which outlined plans last week to launch fuel-cell vehicles around 2020.
Pure-electric cars are struggling to gain a foothold even in markets where they get generous subsidies, so manufacturers are looking for other ways to meet emissions limits in China, Europe and the United States.
Hybrid vehicles, which combine a combustion engine with an electric motor and rechargeable battery, are gaining ground but will struggle to deliver the fuel efficiency needed to meet the next wave of regulations coming into force in 2020-25.
Fuel-cell cars, in common with rechargeable models like Nissan's Leaf, are propelled by electric motors. But instead of a battery, a "stack" of cells combines hydrogen with oxygen from the air to generate the electricity.
This means fuel-cell cars largely avoid the "range anxiety" weighing on electric cars. They can fill up in minutes at a hydrogen pump and drive several times the typical 160-kilometre range of a battery car, which needs anything from 30 minutes to eight hours to recharge.
The three carmakers said their plan sent a signal to suppliers, governments and broader industry to go ahead with infrastructure investment in hydrogen filling stations.
Keen to get the ball rolling in its home market, Daimler has joined with industrial gas producer Linde (LING.DE) to install 20 hydrogen filling stations in Germany.
Fuel cells face a chicken-and-egg problem that has also blighted electric cars: buyers remain wary until a refueling network is rolled out, but infrastructure investors are waiting for the vehicles to become widespread first.
Current manufacturing costs for the vehicles themselves are still more than twice those of equivalent lithium-ion battery models – but may come down much faster, some analysts say.
"Lithium-ion batteries are not the silver bullet everyone thought – just look at Boeing and the Dreamliner," said IHS Automotive analyst Christoph Stuermer, referring to electrical problems that have grounded the U.S. planemaker's flagship jet.
"People are realizing they can't put all their eggs in one basket," he said.
South Korean group Hyundai (005380.KS) has said it expects to halve production costs for fuel-cell cars to 50 million won ($46,000).
Monday's announcement upgrades Daimler's existing fuel-cell research venture with Ford and brings in Nissan. The German luxury carmaker entered a broad-based strategic alliance with Nissan and its French affiliate Renault in 2010.
While Mercedes has been at the forefront of fuel-cell research, German rival BMW had initially backed a rival liquid hydrogen technology. Under last week's deal, BMW gains access to Toyota's fuel cells in exchange for some of its own carbon-fibre know-how.
Hyundai is also betting on fuel cells to leapfrog battery technology and showed hydrogen-powered production models at last September's Paris auto show.
As Daimler and many peers are increasingly convinced, hydrogen cars now offer "the greatest potential for emission-free driving," Weber said.
Toyota has announced plans to offer a fuel cell-powered vehicle in 2015, originally with a target price of $50,000, but has since indicated that it could end up costing substantially more. The Japanese automaker is also teaming up with BMW to develop the next generation of the technology with an eye on a 2020 debut.
Another factor holding back the adoption of hydrogen as a viable motor fuel that the Ford-Nissan-Daimler tie-up doesn't directly address is the lack of infrastructure currently in place for its distribution. There are currently less than 100 hydrogen fueling stations in the United States, many of which are not publically accessible, compared to over 150,000 gasoline stations. Unlike battery-electric carmaker Tesla, which is in the process of building its own network of high-speed charging stations to service its customers' vehicles, the three automakers are not planning to invest in hydrogen filling station construction, but hope that their commitment to manufacture these types of vehicles on a large scale will spur others to do so.