Alstom CEO, Patrick Kron, and Alstom Renewable Power President, Jérôme Pécresse, accompanied Prime Minister, Jean-Marc Ayrault, in Saint-Nazaire, when he officially launched construction works of Alstom's first two offshore wind turbine factories on Monday 21 January.
The exclusive supplier to the consortium headed by EDF EN within the framework of France's first call for tenders in offshore wind energy, Alstom is laying the foundations of a new French industrial cluster which will ultimately create close to 7,000 jobs. The plants are expected to be commissioned in 2014.
The groundbreaking ceremony took place in the presence of Pierre Moscovici, Minister of Economy and Finances, Arnaud Montebourg, Minister of Productive Recovery, Delphine Batho, Minister of Ecology, Sustainable Development and Energy, Jacques Auxiette, President of the Pays de la Loire Region, François Moisan, Executive Director of ADEME French Environment and Energy Development Agency as well as Louis Gallois, General Commissioner for Investment.
The Saint-Nazaire plants will be entirely devoted to assembling nacelles and manufacturing generators for the 6 MW Haliade 150 offshore wind turbine. The two industrial buildings will be next to each other and will cover approximately 2.5 hectares on about 14 hectares of land located in Montoir-de-Bretagne, within the harbour zone of Saint-Nazaire. They will be scaled for a production capacity of 100 machines per year. In 2014, those plants will take over from the temporary workshop in Saint-Nazaire where Alstom is already busy producing early series of the Haliade 150. By 2015, two other plants in Cherbourg intended for the production of blades and towers will be completing this industrial scheme.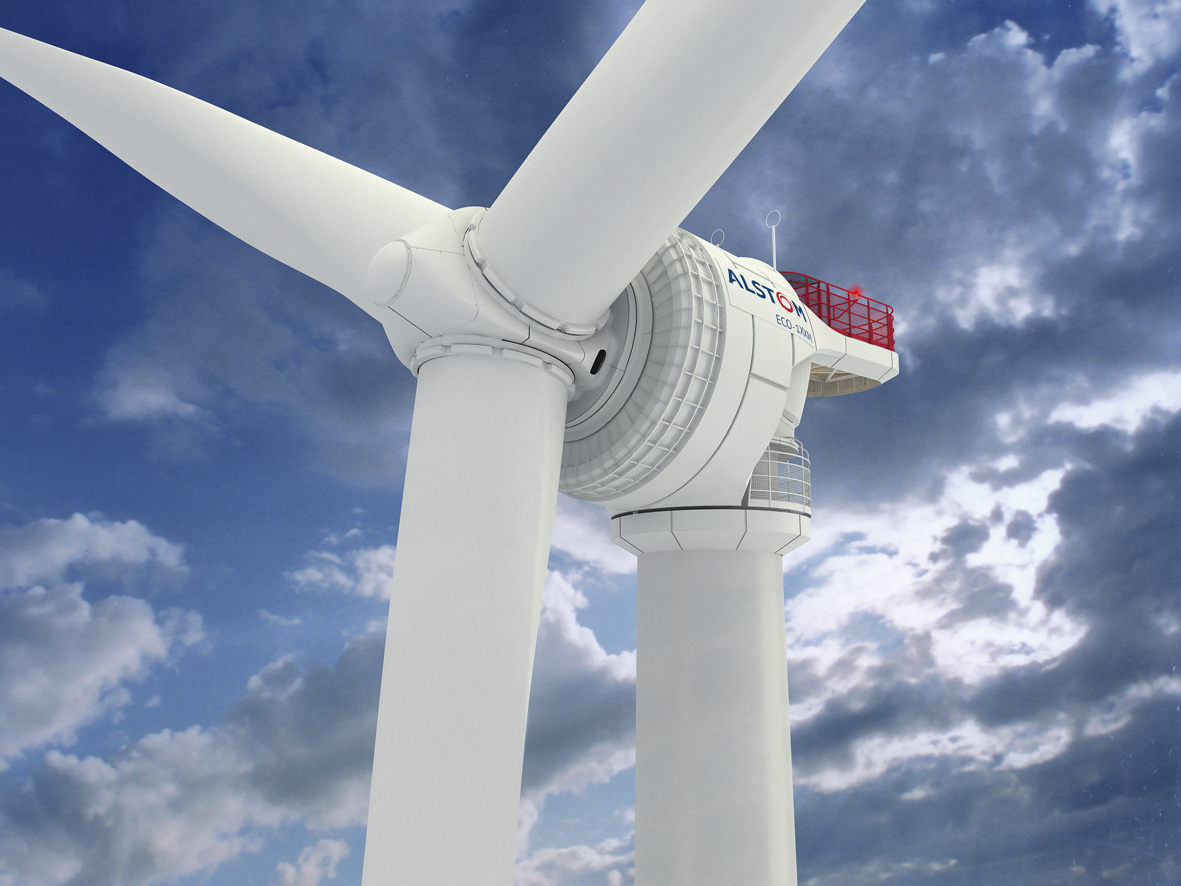 Alstom will deliver the 240 Haliade 150 units to be deployed at the Courseulles-sur-Mer, Fécamp and Saint-Nazaire wind farms starting in 2016. After a 30-year period without inaugurating a factory inside France, the Group is committed to creating about 1,000 direct jobs in the country in the marine renewable energy sector. Alstom's industrial plan should also generate approximately 4,000 indirect jobs among its suppliers and sub-contractors. The consortium's business operations alone will provide 2,000 additional jobs, mainly working on wind farm maintenance.
The plants at Saint-Nazaire and Cherbourg will employ about 300 and 500 people respectively. Qualified workers with experience in electro-mechanical and handling of large parts will account for more than 60% of the workforce. 15% to 20% of engineers will be hired for positions in standard production methods, quality control and logistics. At first, staff working in the temporary Saint-Nazaire workshop will be transferred to Montoir. Hiring will begin at a later stage, gradually intensifying from 2014 to 2018, with a peak starting in 2016. Lastly, an engineering centre specialising in the marine renewable energy sector which is expected in the end to employ 200 people, of which 80% will be engineers, will open in the Pays de la Loire region. Hiring has already begun for this centre.
It is crucial for Alstom to develop a network of local subcontractors, since it will be outsourcing a considerable part of the volumes of its production. To that end, the Group has met with over 500 businesses since 2011 in order to position itself as a genuine local economic force. In late 2012, a three-day event was organised for suppliers, with the help of the Regional Chambers of Commerce and Industry for Lower and Higher Normandy Region and Pays de la Loire. These days attracted from 150 to 300 SMEs. First contracts with component or service providers to the new plants could be signed as early as 2014, relying in particular on the Neopolia network in the region of Saint-Nazaire.
"These new plants are the initial steps required to help create a French industrial cluster of excellence in the field of marine renewable energies which will meet the needs of the French and European markets," said Alstom CEO, Patrick Kron.
Investing in developing marine renewable energies
Public authorities support the industrial development of marine renewable energies in particular through the support of local authorities.
The partnership agreement signed between Alstom, the Pays de la Loire Regional Council, the metropolitan pole of Nantes–Saint-Nazaire and the CARENE (Communauté d'Agglomération de Saint-Nazaire) concerns setting up a shared roadmap in the fields of industrial development and R&D, the integration of Alstom in the regional ecosystem of innovation, research and training, and social and territorial responsibility. The aim is to ensure that Alstom's industrial plans can be efficiently integrated within the region's economic and social development. This agreement reflects the Group's commitment to pursuing the cooperation with the Pays de la Loire Region to continue a partnership successfully developed on the tram-train project.
In addition, three out of the four offshore wind turbine factories will be financed through an investment within the "investissements d'avenir" (investments for the future) scheme managed by the French Environment and Energy Development Agency (ADEME) on behalf of the French State. The objective is to develop a competitive industrial tool dedicated to the production of offshore wind turbine components and the assembling of these wind turbines.
The Haliade 150 soon to be installed in the North Sea for testing under real conditions
The first Haliade 150 installed at the Le Carnet site in the Pays de la Loire region has just begun final testing prior to certification. It now operates at its nominal power of 6MW, wind permitting, and data collected on land will be used to check performance and the kind of power produced according to the wind. The electricity generated is sent to the local grid to supply neighbouring municipalities.
The second wind turbine, which has just been completed in the Saint-Nazaire temporary workshop, will be taken to Ostend harbour, Belgium, in the next few days, to be installed and tested under real sea conditions. It will be deployed at the Belwind wind farm, which already hosts 55 wind turbines. Alstom and Belgian developer, Belwind, have signed a cooperation agreement to install, connect to the grid, operate and maintain one Haliade 150 wind turbine.
http://www.evwind.com/2013/01/21/eolica-marina-alstom-fabricara-aerogeneradores-para-el-programa-eolico-frances/