Ontario, Canada's most populous province with a population equivalent to Ireland, Northern Ireland, Scotland and Wales combined, has decided to abandon coal-fired electricity a year ahead of schedule.
"The early closure is a result of Ontario's strong conservation efforts, a smarter electricity grid and a diverse supply of cleaner energy," Dalton McGuinty, Ontario's Premier said. "Shutting down the last coal plants in Southern Ontario will significantly reduce greenhouse gas emissions and save the province $ CAN95 million (€72.4 million)."
In a press release, the Canadian Wind Energy Association (CanWEA) said Ontario has reduced use of coal by 90% since 2003 while at the same time bringing online 2,000 MW of clean, emissions-free wind energy, up from 400 MW in 2006.
"The move to eliminate dirty coal from the provincial power system makes Ontario a North American leader in both environmental performance and in supporting the development of a clean energy economy," Robert Hornung, president of CanWEA, said.
"Ontario is one of North America's wind energy leaders and every 1,000 MW of new wind energy development represents more than $2.5 billion in new investment. Our developers, manufacturers and construction contractors are excited and ready to help the province continue to build a world-leading power system that is cleaner and affordable."
"With political leadership and continued policy stability, wind energy will deliver on its promise of providing the clean, safe electricity that Ontarians want," the release added.
Gillian McEachern, of Environmental Defense, said elimination of coal-fired electricity in the province represents the largest reduction in global warming pollution on the continent. She said the announcement "means less smog, less carbon pollution and fewer kids with asthma. Coal plants are responsible for deaths and thousands of illnesses in Ontario each year."
In its 2012 news release on electricity production, consumption and price data, Ontario's Independent Electricity System Operator (IESO) said wind energy is now a mainstream resource for the province.
Wind production increased from 3.9 TWh in 2011 to 4.6 TWh last year, the report added.  "On a percentage basis, it represented 3.0 per cent of total output – up from 2.6 per cent in 2011 – and exceeded the output of Ontario's coal plants," the report said.
Ontario is Canada's most populous province with an estimated 13.5 million inhabitants.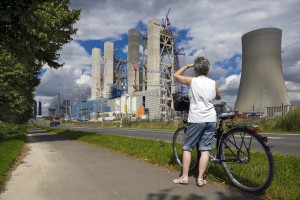 McGuinty made his announcement five days after The Economist published an article saying that coal, at least in the United States, was rapidly losing ground. "At its peak, in 1988, coal provided 60% of America's electricity," The Economist article said. "Even in 2010, when the shale-gas boom was well under way, it still accounted for 42%. By the middle of 2012, though, gas and coal were roughly neck-and-neck, each with around a third of power generation."
A related Economist story, however, pointed out that recently "the amount of electricity generated from coal is rising at annualised rates of as much as 50% in some European countries," – a worrying development in a continent that prides itself on being a world leader in climate saving policies.
The story added that if European energy policies work as intended, "electricity from renewables will gradually take a larger share of overall generation, and Europe will end up with a much greener form of energy."
By Chris Rose, http://www.ewea.org/blog/