After months of uncertainty, French Ecology Minister Delphine Batho finally announced last week the second phase of a call for tenders for the construction of €3.5 billion worth of offshore wind farms to generate 1,000 megawatts of electricity.
The announcement followed up on a promise made by French Prime Minister Jean-Marc Ayrault during a government-hosted conference on the environment in September at which he and President François Hollande promised a plan to kick-start the renewables industry in France.
According to Batho, the projects will create 10,000 industrial jobs. The wind farms are planned for construction near Treport, in northern France, and near the Noirmoutier and Île d'Yeu islands on the Atlantic coast.
Contracts for a first offshore wind project of four wind farms and worth an investment of around €7 billion were awarded by the French government in April last year.
France is currently undergoing a national debate on energy, launched after  President Hollande pledged to reduce the country's reliance on nuclear energy. The outcome of this debate will be the definition of a "clear, stable and sustainable framework for the development of wind energy and other renewables," said the ministry of ecology.
France plans to get 23% of its energy consumption from renewables by 2020. This should include 19 GW from onshore wind turbines and 6 GW from offshore installations. While Batho's call for tenders is clearly an excellent step in the right direction and a positive beginning for 2013, the French wind energy association has called for more action.
"Despite the recognition of the huge wind potential in France, its development still needs to be consolidated," said France Energie Eolienne. The International Energy Agency (IEA) forecast last year that France would be one of the leaders of offshore capacity growth with an increase of 1.5 GW by 2017.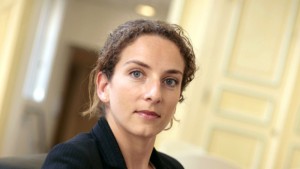 French ecology minister Delphine Batho.
France had about 6.8 GW of installed wind capacity at the end of 2011 compared with 29 GW in Germany and more than 21.6 GW in Spain, according to the latest statistics from the European Wind Energy Association (EWEA).
In addition to its natural resources, there is growing support for wind power from the French population. According to a survey by the French Environment and Energy Management Agency (ADEME) in 2010, 74% of French people were in favour of the installation of wind turbines and 53% thought that out of all renewable energies, the wind sector should be made the priority compared to 43% the year before.
By Philippa Jones, http://www.ewea.org/blog