Wind energy's contribution to Belgian GDP has risen by 69% in four years (2007-2011), new findings show.
This is a rate far higher than the growth of GDP itself, making wind energy a catalyst for Belgium's economic recovery.
The wind power sector brought €335.3 million to the Belgian economy in 2011.
The figures come from a Deloitte study which also finds that national wind energy jobs have increased by 74% while the overall employment rate has gone up by just 3.7% (a figure 20 times lower) since 2007.
At the end of 2011, there were 6,200 wind energy jobs in Belgium: in 2020 this should have gone up to 10,000 jobs and by 2030, over 16,000. The €335.3 million the sector generated in 2011 should reach €1.4-1.9 million by 2020 and €2.1-2.9 million by 2030.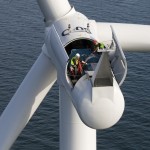 Carried out for the Francophone Belgian renewable energy association EDORA, the study points out that the wind energy sector contributed proportionally far more to the economy in terms of R&D spending than the average (3.43% compared to 1.99%).
It also states that wind energy saved €111.6 million on fuel costs and €11.7 million on CO2 costs in 2011.
Read EWEA's 'Green Growth' report on the contribution of wind energy to the EU economy
By Zoë Case,  http://www.ewea.org/blog/