Alstom is a member of a team led by Dominion Virginia Power, which has been awarded a $4 million grant by the U.S. Department of Energy (DOE) to complete the engineering, site evaluation and planning phase for an offshore wind demonstration project in the state of Virginia.
DOE's advanced technology demonstration program is intended to achieve large cost reductions over existing offshore wind technologies and develop viable and reliable options for the U.S. Through this effort, America's first offshore wind projects could enter commercial operation by 2017.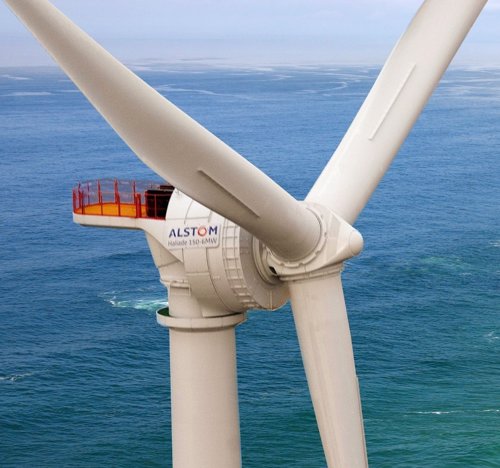 The Dominion team's proposal includes the installation of two Alstom Haliade 150 offshore wind turbines about 22 miles off the coast of Virginia Beach. These units would be fully-integrated with the state's onshore power grid and feature innovative foundations.
The Haliade 150 offshore wind turbine is built on Alstom Pure Torque technology, which reduces stress on its power generating components. This design combined with a permanent magnet direct drive generator and a 150-meter rotor reduces the cost of offshore wind power by increasing reliability and availability, improving drivetrain efficiency, boosting energy yield, and reducing operations and maintenance (O&M) costs. Alstom's Haliade 150 wind turbines are deployed in France and Belgium.
Seven teams have been awarded up to $4 million each by DOE to advance their proposed projects through initial engineering. Once this first phase is complete, DOE will select three projects to receive up to $47 million in additional funding.