This new system enables drivers to charge their batteries in comfort, without having to leave their vehicles, and has the advantage that the vehicle does not have to be positioned exactly on the transmitter coil.
The new project developed with Fundación CIRCE has achieved a totally safe high-power charging system.
Endesa and Fundación CIRCE have presented for the first time in Spain a wireless charging system for electric vehicles, which allows electric batteries to be 80%-charged in 15 minutes.
Using inductive technology, customers only have to position their electric vehicle (with a receiver beneath the car) on a ground-level charging platform. When the system detects the presence of a car, it connects wirelessly and starts to transfer the energy charge.  The process stops automatically when the service conditions have been met, it is interrupted manually or if the car is moved away from the charging point. This new system has been developed to transfer 50 Kw of power and includes significant advantages:
1. Screening: Charges made at these high power levels are totally safe, with emissions kept below the permitted limits.
2. Alignment: There is a  margin of approximately 30% for the transmitter to detect the vehicle on top of it, connect and start transmitting power, i.e. the vehicle does not have to be in an exact position.
3. Comfort: No cable is required to start the charging process (in the case of fast charging the cable is also large and heavy) and drivers can charge their batteries without having to leave their vehicles.
4. Safety: The charging device can be easily installed in almost any location, making it barely visible and offering effective protection against vandalism and adverse weather conditions.
Once the base technology presented today has been developed, it may be included and adapted for different motionless charging requirements such as for bus stops or terminals, trucks or service vehicles at specified areas or fast charging for private cars at service stations, allowing  autonomy to be increased without the driver having to leave the vehicle.  Furthermore, in the future it will be easier to increase power to adapt to different charging needs.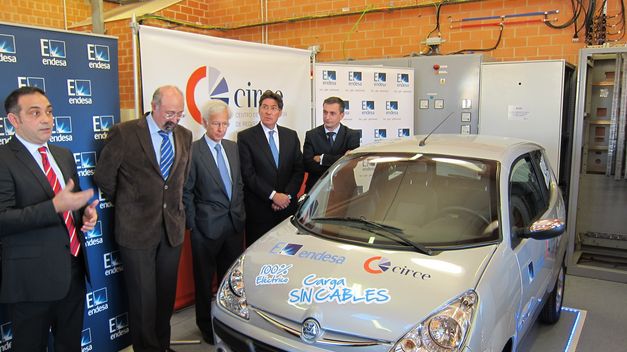 Unplugged Project
Enel and Endesa are taking part in various work groups under the Unplugged project, a European initiative to develop wireless charging. As part of this project, Endesa and the Fundación Circe of Zaragoza are heading the work group to build an inductive fast charge point and the inclusion of the required device on the vehicle. Enel is also taking part in the development and installation of a management and control system for the charging point.
Unplugged is a European initiative backed by the Seventh Framework Programme for Research and Technological Development (7PM) in which there are 17 partners, including private firms (e.g. Enel and Endesa), European research centres and universities, along with contributions from cities such as Barcelona and Florence also contribute to the programme. The project has a budget of Euros 2.3 million and is scheduled to run for two-and-a-half years.
http://www.evwind.com/2012/12/03/endesa-presenta-la-carga-rapida-sin-cables-para-vehiculos-electricos/