Wind energy in South Australia now meets around 26% of the region's electricity demand and has become one of the nation's growth sectors, a new report says.
The 22-page report — The Critical Decade: Generating a renewable Australia — also noted that wind power is one of the country's most cost-competitive renewable electricity sources.
Published by the Climate Commission, the report said Australia has enormous potential for renewable energy but currently that potential is under-utilised. "In coming decades, the Australian economy could be powered almost entirely by renewable energy," the report said, adding the nation has world-class wind and solar resources.
"The rate of growth of wind energy is well above any other large-scale generation source, growing at an average of 40% each year over five years to 2009–10," according to the report.
The report said greenhouse gas emissions from fossil fuels must be eliminated within decades if the world is to avoid the most damaging consequences of climate change.
"To do this, we need to use energy more efficiently and harness energy technologies, including renewable energy, that produce either no greenhouse gas emissions or very low emissions."
The report noted that about two-thirds of the world's electricity currently comes from fossil fuels, global demand for energy has doubled since 1980, and energy demand could increase by a further 85% by 2050.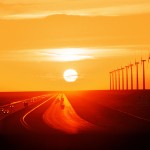 While the report said the use of wind energy to produce electricity makes up the second largest share of Australia's renewable electricity, after hydro, generating around 23% of electricity, it added the amount of wind-generated electricity remains a small fraction of that generated by fossil fuels.
Four days before the report was published, Bloomberg carried a news story saying that AGL Energy, Australia's largest operator of renewable energy projects, expected its €807 million Macarthur wind farm to be operating fully in February as the country seeks to reduce its reliance on coal.
The story added Sydney-based AGL and partner Meridian Energy are starting the 420 Megawatt Macarthur project in Victoria, the largest wind farm in the Southern Hemisphere, as Australia moves toward its goal of getting 20% of its power from renewable energy by 2020.
By Chris Rose, http://www.ewea.org/blog/