Romania is a potential paradise for electricity from renewables – we can even say that it is gone with the wind, while solar has big potential as well. This can help with achieving the compulsory EU country targets, but it also brings profits for companies who know how to exploit the Romanian renewable "revolution". The country has one of the most generous national support schemes, and, recently, smarter legislation in the field. While things can always improve, green light is there.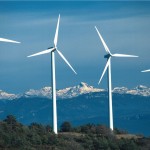 The biggest European wind park is being built in Romania and there is potential for even more investments. The local wind energy market has proved a rapid growth towards reaching European targets; by the second quarter of 2012, there were over 1,000 MW installed in wind (968 MW of this in 2010 and 2011).
The EU goal to cut greenhouse gas emissions by 80–95% by 2050 has serious implications for our energy system. We need to be far more energy efficient and about two thirds of our energy should come from renewable sources. Wind power plays, for the moment, a central role in an increasing number of countries' immediate and longer term energy plans.
The recent upheaval within both the commercial banking sector and the eurozone have slowed its progress in southern Europe. Nonetheless, 2013 appears like a year of renewal, and investors are looking more closely at countries like Romania. Let us not forget that due to both technology improvements and market forces, wind equipment costs have come down significantly in the past few years. Estimates show that in 2013 Romania will have more than 3000 MW installed on wind energy.
The industry will continue to grow during the coming five years, but it will not be easy in the medium term. It will be especially tough for manufacturers, with chronic oversupply of turbines adding to existing downward price pressure from general economic conditions to cut margins dramatically, like specialist warn already. But Romania will still be attracting wind investors because of its clean energy incentive program and location along the Black Sea, where average wind speeds are about 25.2 kilometres per hour (15.7 miles per hour).
Want to know more? EWEA's 2013 annual event will focus on Romania and other emerging European markets: more information on www.ewea.org/annual2013
Radu Magdin is CEO of SmartLink Communications, a strategy consultancy following the energy field, http://www.ewea.org/blog