The wind farm is part of ambitious plans by Wind Energy Holding Co (WEH) for wind farms generating a combined 1,000 MW by 2020, said Nopporn Suppipat, the company's founder and director.
Southeast Asia's largest wind farm, with generating capacity of 103.5 megawatts and costing 6.5 billion baht, will start operating in Nakhon Ratchasima next month.
Operated by its subsidiary First Korat Wind Co, this first wind farm signed a power purchase agreement with the Electricity Generating Authority of Thailand in 2010.
The project consists of 45 wind turbines located 300 metres above sea level.
Mr Nopporn said once operational, the project will top Southeast Asia's current largest wind farm at Bangui Bay in the Philippines.
That one has been operating since 2005 with capacity of 33 MW. WEH is also developing a second 103.5-MW wind farm, also in Nakhon Ratchasima province and at a similar cost.
It will commence commercial operation in next year's first quarter, operated by the Korat Two subsidiary.
Siemens has received two orders from Thailand, the first for the company coming from this Asian wind energy market, for a total of 200 MW (90 wind turbines). The units are to be installed at two wind farms in Northeastern Thailand. The customers are K.R. Two Company and First Korat Wind Energy Holding.
The project's first phase will see a combined 550 MW of wind farms operating under seven licences the company has obtained from the Energy Ministry.
At a total cost of 40.1 billion baht, first-phase development is scheduled for 2011-16.
A second phase of wind farms with an additional 500 MW in combined capacity will be developed from 2016-20.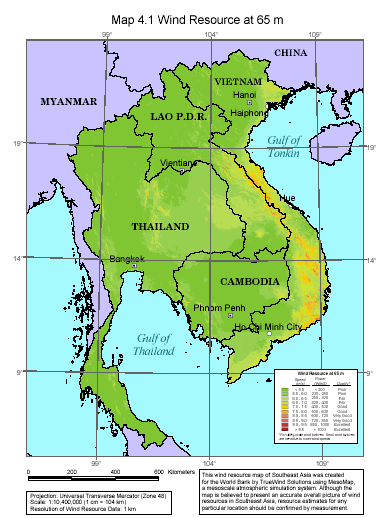 "All the sites we've selected are in areas of strong wind speeds of eight metres per second or more," said Mr Nopporn.
"This compares favourably with projects owned by power utilities in Thailand's coastal areas, where wind speeds are usually less than five metres per second.
"It's not surprising to see wind farms on the seashore standing still for many hours each day, as wind speeds in these areas are not suitable."
http://www.docstoc.com/docs/22042040/Prospect-of-Wind-Energy-in-Thailand—MoE