In the April-September period of 2012-13, India added 851.35 MW, against 1,402.66 MW in the same period a year ago.
Fresh installations of wind energy capacity in India in the first six months of the current financial year have fallen by 40 per cent compared with capacity addition in the same period last year.
The fall has been attributed mainly to the removal of two key incentives that were available to those who put up wind mills — accelerated depreciation and generation-based incentive.
The figures also underscore the obstacles wind power developers are facing in the two key wind power generators — Tamil Nadu and Gujarat.
In Tamil Nadu, the State that leads the country with 40 per cent of total wind power capacity in the country, the existing wind power producers are facing numerous problems, which have been driving away fresh investment.
Some of these problems are: Inadequacy of grid to evacuate the power, humungous payment delays by the State-owned utility for power purchased, un-remunerative increase in tariff (by 12 paise to Rs 2.51 a unit) and increase in cross-subsidy charges.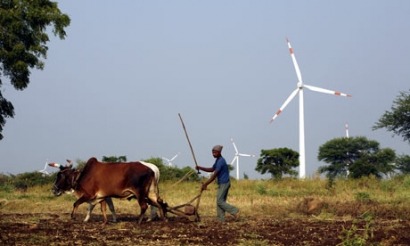 As a result, fresh capacity additions in Tamil Nadu were only 162.95 MW, compared with 644.21 MW previously. Industry experts say that whatever capacity has come up until now have only been spillovers from the previous year; the state might add not more than 50 MW in the rest of the year.
In Gujarat, the fall is attributed to uncertainty over the State Government's policies.
According to Ramesh Kymal, Chairman, Indian Wind Turbine Manufacturers' Association (IWTMA), the dismal situation would continue into the rest of the year, unless the generation-based incentive (GBI) is restored immediately.
"This year, India will be lucky to have additional 1,500 MW of wind power capacity," Kymal said. Last year, India added close to 3,200 MW. He said that while on the one hand developers were not coming forward to put up projects because of policy issues, on the other, even those projects that have been announced are finding it difficult to raise finance.
Kymal said that restoration of the generation-based incentive would help remedy the situation and save thousands of jobs. He pointed out that the Ministry of New and Renewable Energy has recommended a GBI of 82 paise per unit, up to 13,500 MW of capacity and said that the recommendation was stuck at the Planning Commission. "Nobody seems to be anxious about the drop in capacity additions," he said.