The wind turbines, each with a rated power output of 3.2 megawatts (MW) and a hub height of 143 metres, are intended for the Poysdorf-Wilfersdorf III wind farm in the north-east of Austria.
On Tuesday at HUSUM WindEnergy 2012, Suzlon Group's subsidiary REpower Systems SE signed a contract with the Austrian operator Windkraft Simonsfeld AG for the delivery of eight 3.2M114 wind turbines.
With a total height of 200 metres, the REpower 3.2M114 is the tallest wind turbine ever constructed in the country. They will be delivered in the second quarter of 2013 and the wind farm, which will have a total power output of around 26 MW, is scheduled to go live in the fourth quarter.
In addition to delivering, constructing and commissioning the turbines, the Hamburgbased company is also responsible for maintaining them and will conclude a 20-year integrated service package (ISP) contract with Windkraft Simonsfeld AG.
Jens Müller-Nielsen, Managing Director of REpower Systems GmbH, which serves the Austrian market, said: "We are delighted to once again work with Windkraft Simonsfeld AG. The Austrian market offers huge potential that we are keen to leverage for the benefit of REpower too. This is why we plan to further strengthen our activities here in the future."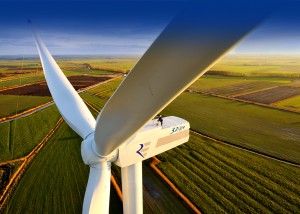 Markus Winter, Head of Engineering at Windkraft Simonsfeld AG, explains: "Following the initial positive experiences we had with REpower in the construction of our five 2.05 MW turbines at the Dürnkrut wind farm, it was only logical to take the step into the 3 MW class together."
Thanks to their optimally harmonised rated power, rotor diameter and 143-metre hub height, the turbines destined for the Poysdorf-Wilfersdorf III wind farm are ideally suited for locations with low wind speeds as well as hilly and forested terrain. Compared to a 3.2M114 turbine with a hub height of 93 metres, a hub height of 143 metres can increase yields at locations with low wind speeds by up to 50%.