Altair Nanotechnologies Inc. (NASDAQ: ALTI) and EnerDel, Inc., two leading providers of energy storage solutions, today announced that they have signed a strategic memorandum-of-understanding (MOU) to co-market and cross-sell each others' product portfolios. Each company will now be able to offer a much broader line of lithium-ion-based energy storage systems (ESS) from individual cells and modules to complete systems that offer multiple chemistries and technologies to meet the needs of their respective customers.
"Collaborating with EnerDel recognizes the value of our complementary battery technologies and market strengths to create better solutions for our customers," said Alexander Lee, CEO, Altair Nanotechnologies. "Electric grid customers are interested in combining high power and high energy battery systems to solve the challenges of renewable integration and ancillary services. This MOU allows each company to expand its market presence while creating real value for our customers."
"Altair Nanotechnologies has developed an impressive high-power, lithium-titanate product solution that complements our standard product line," stated EnerDel CEO David Roberts. "We're pleased to be able to offer their products to our customers, which will be particularly useful in hybrid systems. We believe this strategic relationship will allow both companies to engage this aspect of the market more quickly than our competitors."
This agreement is effective immediately, and the companies will start representing each others' products as part of their regular sales efforts in the coming weeks.

Altairnano is a leading provider of high-power, energy storage systems for the electric grid, industrial equipment and transportation markets. The company's lithium titanate technology is built on a proprietary nano-scale processing technology that creates high-power, rapid-charging battery systems with industry-leading performance and cycle life. Altairnano is headquartered in Reno, Nevada and maintains operations in Anderson, Indiana; Zhuhai, China; and Wu'an, China. For additional information, please visit www.altairnano.com.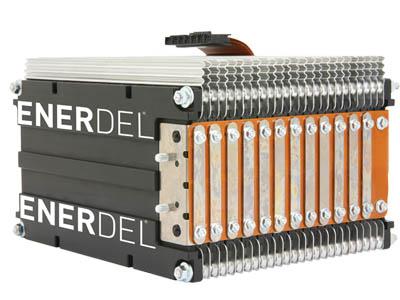 EnerDel, Inc. is a privately-held company headquartered in Indianapolis, Ind. It manufactures advanced, lithium-ion batteries and energy storage systems for electric utility, transportation and industrial applications. The company's prismatic cell design and modular stacking architecture combine to provide customers with production-ready solutions that address their power and energy storage needs. For additional information, visit www.EnerDel.com.