Located in Lake Mary, FL, ESA Renewables has positioned itself as a leader in the industry providing turnkey solar PV systems globally. ESA owns and operates a diverse portfolio of more than 500 solar PV power generating facilities located in the United States, Puerto Rico, Spain and Italy.
ESA Renewables, an industry leader in providing turnkey solar solutions, announced that it will be attending the Solar Power International (SPI) trade show and exhibiting its all inclusive solar services. The conference and exhibition will be September 10th-13th, 2012 at the Orange County Convention Center in Orlando, Florida. ESA Renewables will be located at booth #3617.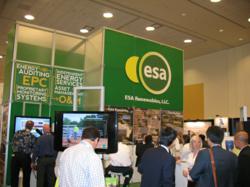 SPI is recognized as North America's premier and most comprehensive event for solar industry professionals. With an expected turnout of more than 21,000 industry specialists from over 100 countries, this year's show is sure to bring together a wide range of companies, markets, and new products. Exhibiting companies represent all aspects of solar from PV cells and module manufacturers to material and equipment suppliers and solar industry publications.
ESA Renewables will be showcasing their proprietary monitoring system which allows for centralized monitoring, reliable and secure data storage, adaptability to any size installation, and immediate access to alerts, updates, and current conditions on the site. The system also has the ability to monitor and detect issues down to the string level, enhancing accuracy and reliability.
ESA has a growing pipeline of projects in the United States, Caribbean, and Central and South America slated for construction at the end of 2012 and early 2013. ESA's staff would like to discuss this development pipeline along with project financing, EPC services, and comprehensive operation and maintenance (O&M) solutions with attendees. ESA will highlight their O&M platform at the show through a variety of services such as energy auditing, asset management and Solar Power Production Guarantees.
"From top to bottom, ESA provides a total solar package," said Jeffrey Burkett, President of ESA Renewables. "Through vertical integration we are able to offer our customers a complete scope of services which have resulted in the successful installation and management of over 500 systems worldwide involving 45 different utility companies."
Solar Power International presents ESA with an opportunity to interact directly with potential investors, customers, suppliers and other industry experts. To further this effort, ESA Renewables is hosting a private party on Wednesday evening to show appreciation to customers for their business and to capitalize on strategic relationships.
ESA's scope of services includes financing, engineering, construction, testing, monitoring and operation and maintenance. With headquarters in Castellon Spain, ESA has additional offices in Florida, North Carolina, Puerto Rico, Canada, Chile, and Italy. For more information about ESA Renewables, LLC, please visit http://www.esarenewables.com