The U.S. wind power industry is facing uncertain times.
GE and Vestas both secured roughly 29% of U.S. wind energy market share (by capacity installed) in 2011, followed by Siemens (18%), Suzlon and Mitsubishi (both at 5%), Nordex and Clipper (both at 4%), REpower (3%), and Gamesa (2%).
There has been a notable increase in the number of wind turbine manufacturers serving the U.S. market – those installing more than 1 MW has increased from just 5 in 2005 to 20 manufacturers in 2011. Recently, however, there is evidence of gains in the aggregate market share of the three leading manufacturers: GE, Vestas, and Siemens. On a worldwide basis, Chinese turbine manufacturers continue to occupy positions of prominence: four of the top ten, and seven of the top 15, leading global suppliers of wind turbines in 2011 hail from China.
To date, that growth has been based almost entirely on sales to the Chinese market. However, 2011 installations by Chinese and South Korean manufacturers in the U.S. include those from Sany Electric (10 MW), Samsung (5 MW), Goldwind (4.5 MW), Hyundai (3.3 MW), Sinovel (1.5 MW), and Unison (1.5 MW).
Uncertainty Reigns in Federal Incentives for Wind Energy Beyond 2012. The Recovery Act enabled wind power projects placed in service prior to the end of 2012 to elect a 30% investment tax credit (ITC) in lieu of the production tax credit (PTC). More importantly, given the relative scarcity of tax equity in the immediate wake of the financial crisis, the Recovery Act also enabled wind power projects to elect a 30% cash grant from the Treasury in lieu of federal tax credits. More than 60% of the new wind capacity installed in 2011 elected the cash grant.
However, in order to qualify for the grant, wind power projects must have been under construction by the end of 2011, must apply for a grant by October 1, 2012, and must be placed in service by the end of 2012. With the PTC, ITC, and bonus depreciation all also currently scheduled to expire at the end of 2012, the wind energy sector is currently facing serious federal policy uncertainty looking to 2013 and beyond.
The United States Remained the Second Largest Market in Annual and Cumulative Wind Power Capacity Additions, but Was Well Behind the Market Leaders in Wind Energy Penetration.
Credit: Department of Energy
With 2011 capacity additions having risen from 2010 levels and with a further sizable increase expected in 2012, there are – on the surface – grounds for optimism.
Key factors driving growth in 2011 included continued state and federal incentives for wind energy, recent improvements in the cost and performance of wind power technology, and the need to meet an end-of-year construction start deadline in order to qualify for the Section 1603 Treasury grant program.
At the same time, the currently-slated expiration of key federal tax incentives for wind energy at the end of 2012 – in concert with continued low natural gas prices and modest electricity demand growth – threatens to dramatically slow new builds in 2013.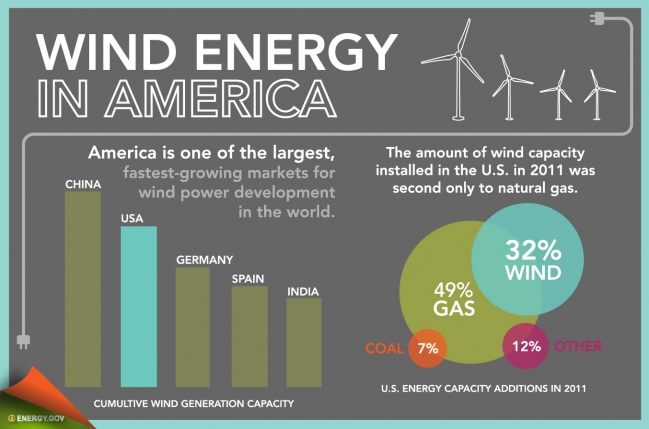 This infographic details key findings from the 2011 Wind Market Report. | Infographic by Sarah Gerrity.
Key findings from this year's "Wind Technologies Market Report" include:
Wind Power Additions Increased in 2011, with Roughly 6.8 GW of New Capacity Added in the United States and $14 Billion Invested. Wind power installations in 2011 were 31% higher than in 2010, but still well below the levels seen in 2008 and 2009. Cumulative wind power capacity grew by 16% in 2011, bringing the total to nearly 47 GW.
Wind Power Comprised 32% of U.S. Electric Generating Capacity Additions in 2011. This is up from 25% in 2010, but below its historic peak of 42-43% in 2008 and 2009. In 2011, for the sixth time in the past seven years, wind power was the second-largest new resource (behind natural gas) added to the U.S. electrical grid in terms of gross capacity.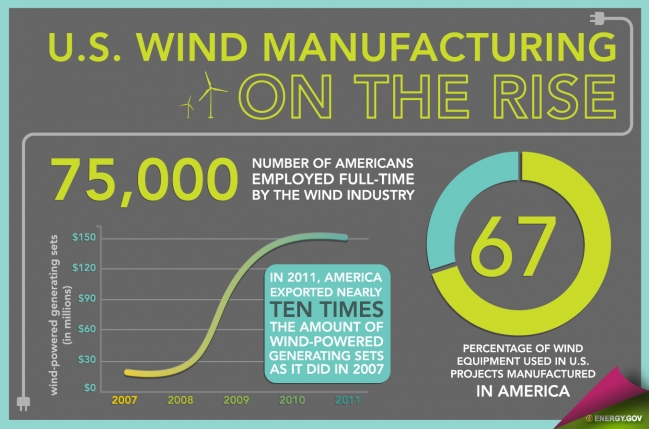 This infographic details key findings from the 2011 Wind Market Report.
The United States Remained the Second Largest Market in Annual and Cumulative Wind Power Capacity Additions, but Was Well Behind the Market Leaders in Wind Energy Penetration. After leading the world in annual wind power capacity additions from 2005 through 2008, the U.S. has now – for three years – been second to China, comprising roughly 16% of global installed capacity in 2011, up slightly from 13% in 2010, but down substantially from 26-30% from 2007 through 2009. In terms of cumulative capacity, the U.S. also remained the second leading market, with nearly 20% of total global wind power capacity.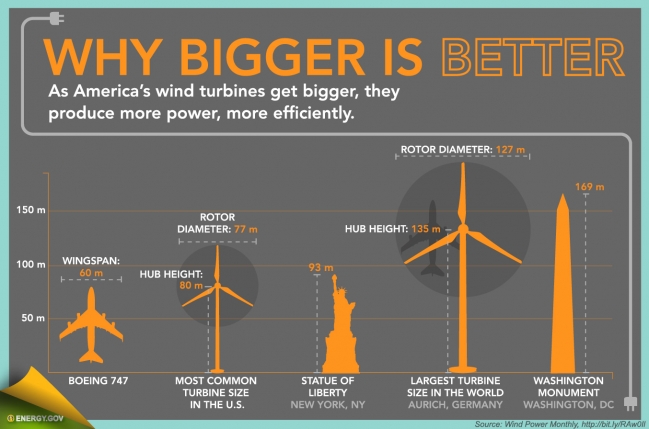 This infographic details key findings from the 2011 Wind Market Report
A number of countries are beginning to achieve relatively high levels of wind energy penetration in their electricity grids: end-of-2011 wind power capacity is estimated to supply the equivalent of roughly 29% of Denmark's electricity demand, 19% of Portugal's, 19% of Spain's, 18% of Ireland's, and 11% of Germany's. In the United States, the cumulative wind power capacity installed at the end of 2011 is estimated, in an average year, to equate to roughly 3.3% of the nation's electricity demand.
California Added More New Wind Power Capacity than Any Other State, While Six States Are Estimated to Exceed 10% Wind Energy Penetration. With 921 MW added, California led the 29 other states in which new large-scale wind turbines were installed in 2011, ending Texas' six-year reign (Texas fell to ninth place in 2011). Other states with more than 500 MW added in 2011 included Illinois, Iowa, Minnesota, Oklahoma, and Colorado.
On a cumulative basis, Texas remained the clear leader. Notably, the wind power capacity installed in South Dakota and Iowa as of the end of 2011 is estimated, in an average year, to supply approximately 22% and 20%, respectively, of all in-state electricity generation. Four other states are also estimated to exceed 10% penetration by this metric: Minnesota, North Dakota, Colorado, and Oregon.
No Offshore Wind Turbines Have Been Commissioned in the United States, but Offshore Project and Policy Developments Continued in 2011. At the end of 2011, global offshore wind power capacity stood at roughly 4,000 MW, with the vast majority located in Europe.
To date, no offshore projects have been installed in the United States. Nonetheless, significant strides have been made recently in the federal arena, through both the Department of the Interior's responsibilities with regard to regulatory approvals and the Department of Energy's investments in offshore wind R&D. Interest exists in developing offshore wind energy in several parts of the country – e.g., Navigant finds that ten projects totaling 3,800 MW are somewhat more advanced in the development process. Of these, two have signed power purchase agreements (a third offshore wind PPA was recently canceled).
Data from Interconnection Queues Demonstrate that an Enormous Amount of Wind Power Capacity Is Under Consideration. At the end of 2011, there were 219 GW of wind power capacity within the transmission interconnection queues administered by independent system operators, regional transmission organizations, and utilities reviewed for this report.
This wind power capacity represented 45% of all generating capacity within these queues at that time, and was 1.5 times as much capacity as the next-largest resource (natural gas). Of note, however, is that the absolute amount of wind and coal power capacity in the sampled interconnection queues has declined in recent years, whereas natural gas and solar capacity has increased. Most (96%) of the wind power capacity is planned for the Midwest, PJM Interconnection, Texas, Mountain, Northwest, Southwest Power Pool, and California regions.
Projects currently in interconnection queues are often very early in the development process, so much of this capacity is unlikely to be built as planned; nonetheless, these data demonstrate the continued high level of developer interest in wind power.
Despite the Ongoing Proliferation of New Entrants, the "Big Three" Turbine Suppliers Have Gained U.S. Market Share Since 2009.
Domestic Wind Turbine and Component Manufacturing Capacity Has Increased, but Uncertainty in Future Demand Has Put the Wind Turbine Supply Chain Under Severe Pressure. Eight of the ten wind turbine manufacturers with the largest share of the U.S. market in 2011 had one or more manufacturing facilities in the United States at the end of 2011. In contrast, in 2004 there was only one active utility-scale wind turbine manufacturer assembling nacelles in the United States (GE). In addition, a number of new wind turbine and component manufacturing facilities were either announced or opened in 2011, by both foreign and domestic firms.
The American Wind Energy Association (AWEA) estimates that the entire wind energy sector directly and indirectly employed 75,000 full-time workers in the United States at the end of 2011 – equal to the jobs reported in 2010 but fewer than in 2008 and 2009.
Though domestic manufacturing capabilities have grown, uncertain prospects after 2012 – due primarily to the scheduled expiration of federal incentives – are pressuring the wind industry's domestic supply chain as margins drop and concerns about manufacturing overcapacity deepen, potentially setting the stage for significant layoffs.
The growth in U.S. wind turbine manufacturing capability and the drop in wind power plant installations since 2009 led to an estimated over-capacity of U.S. turbine nacelle assembly capability of more than 5 GW in 2011, in comparison to 4 GW of under-capacity in 2009. Over-capacity relative to U.S. turbine demand is anticipated to be even more severe in 2013 and 2014.
As a result of this over-supply, coupled with increasing competition, including from new entrants from China and Korea, a wide range of turbine manufacturers have reported weakened financial results, with companies throughout the U.S. wind industry's supply chain announcing cuts to their U.S. workforce.
A Growing Percentage of the Equipment Used in U.S. Wind Power Projects Has Been Sourced Domestically in Recent Years. U.S. trade data show that the United States remained a large importer of wind power equipment in 2011, but that growth in installed wind power capacity has outpaced the growth in imports in recent years. As a result, a growing percentage of the equipment used in wind power projects is being sourced domestically.
When presented as a fraction of total equipment-related wind turbine costs, domestic content is estimated to have increased significantly from 35% in 2005-2006 to 67% in 2011. Exports of wind-powered generating sets from the United States have also increased, rising from $15 million in 2007 to $149 million in 2011.
The Average Nameplate Capacity, Hub Height, and Rotor Diameter of Installed Wind Turbines Increased. The average nameplate capacity of wind turbines installed in the United States in 2011 increased to 1.97 MW, up from 1.80 MW in 2010 and the largest single-year increase in more than six years. Since 1998-99, average turbine nameplate capacity has increased by 174%.
Average hub heights and rotor diameters have also scaled with time, to 81 and 89 meters, respectively, in 2011. Since 1998-99, the average turbine hub height has increased by 45%, while the average rotor diameter has increased by 86%.
In large part, these increases have been driven by new turbines designed to serve lower-wind-speed sites. Industry expectations as well as new turbine announcements (mostly surrounding additional low-wind-speed turbines) suggest that significant further scaling, especially in average rotor diameter, is anticipated in the near term.
Project Finance Was a Mixed Bag in 2011, as Debt Terms Deteriorated While Tax Equity Held Steady. After steady improvement in both the debt and tax equity markets throughout 2010, progress faltered somewhat in 2011 on the debt side as the latest Greek/European debt crisis drove a new round of retrenchment.
At the same time, new banking regulations took hold, driving considerably shorter bank loan tenors (institutional lenders, meanwhile, continued to offer significantly longer products). In contrast to the weakened debt market, the market for tax equity improved somewhat in 2011, with pricing remaining fairly stable and a handful of new or returning investors entering the market.
As the number of grandfathered Section 1603 grant deals begins to taper off in 2012, however, attrition in tax equity investors is possible, as some have indicated no interest in PTC deals.
IPPs Remain the Dominant Owners of Wind Projects, But Utility Ownership Increased Significantly in 2011, Largely On the Back of One Utility. Independent power producers (IPPs) own 73% of all new wind power capacity installed in the United States in 2011, and 82% of the cumulative installed capacity. Utility ownership jumped to nearly 25% in 2011 (as MidAmerican Energy alone added nearly 600 MW in Iowa), up from 15% in the two previous years, and reached 17% on a cumulative basis.
Long-Term Contracted Sales to Utilities Remained the Most Common Off-Take Arrangement, but Scarcity of Power Purchase Agreements and Looming PTC Expiration Drove Continued Merchant Development. Electric utilities continued to be the dominant purchasers (i.e., off-takers) of wind power in 2011, either owning (25%) or buying (51%) power from 76% of the new capacity installed last year.
Source: NREL
Merchant/quasi-merchant projects were less prevalent in 2011 than they have been in recent years, accounting for 21% of all new capacity. With power purchase agreements (PPAs) in relatively short supply in comparison to wind developer interest, wholesale power prices at low levels, and a scheduled PTC expiration looming, it is likely that many of the merchant/quasi-merchant projects built in 2011 are merchant by necessity rather than by choice – i.e., building projects on a merchant basis may, in some cases, simply have been the most expedient way to ensure the deployment of committed turbines in advance of the scheduled expiration of important federal incentives.
Some of these projects are, therefore, likely still seeking long-term PPAs. On a cumulative basis, utilities own (17%) or buy (50%) power from 66% of all wind power capacity in the United States, with merchant/quasi-merchant projects accounting for 24% and power marketers 10%.
With Increased Competition among Manufacturers, Wind Turbine Prices Continued to Decline in 2011. After hitting a low of roughly $700/kW from 2000 to 2002, average wind turbine prices increased by approximately $800/kW (>100%) through 2008, rising to an average of more than $1,500/kW. Wind turbine prices have since dropped substantially, despite continued technological advancements that have yielded increases in hub heights and especially rotor diameters.
A number of turbine transactions announced in 2011 had pricing in the $1,150-$1,350/kW range and price quotes for recent transactions are reportedly in the range of $900-$1,270/kW, depending on the technology.
These price reductions, coupled with improved turbine technology and more-favorable terms for turbine purchasers, should, over time, exert downward pressure on total project costs and wind power prices.
Though Slow to Reflect Declining Wind Turbine Prices, Reported Installed Project Costs Finally Turned the Corner in 2011. Among a large sample of wind power projects installed in 2011, the capacity-weighted average installed project cost stood at nearly $2,100/kW, down almost $100/kW from the reported average cost in both 2009 and 2010.
Moreover, a preliminary estimate of the average installed cost among a relatively small sample of projects that either have been or will be built in 2012 suggests that average installed costs may decline further in 2012, continuing to follow lower turbine prices.
Installed Costs Differ By Project Size, Turbine Size, and Region. Installed project costs are found to exhibit some weak economies of scale, at least at the lower end of the project and turbine size range. Texas is found to be the lowest-cost region, while California and New England were the highest-cost regions.
Newer Projects Appear to Show Improvements in Operations and Maintenance Costs. Despite limited data availability, it appears that projects installed more recently have, on average, incurred lower O&M costs than older projects in their first several years of operation, and that O&M costs increase as projects age.
Sample-Wide Wind Project Capacity Factors Have Generally Improved Over Time. Boosted primarily by taller towers and larger rotor diameters (relative to nameplate capacity), average sample-wide wind power project capacity factors have, in general, gradually increased over time, from 25% in 1999 (for projects installed through 1998) to a high of nearly 34% in 2008 (for projects installed through 2007).
In 2009 and 2010, however, sample-wide capacity factors dropped to around 30%, before 2011 brought a resurgence back to 33% (for projects installed through 2010). The drop in 2009 and 2010 was likely due to a combination of lackluster wind speeds throughout much of the U.S. in both 2009 and 2010 as well as wind power curtailment (particularly severe in 2009).
Some Stagnation in Wind Project Capacity Factor Improvement Is Evident Among Projects Built from 2006 through 2010, Due in Part to a Build Out of Projects in Progressively Weaker Wind Resource Areas. Focusing only on capacity factors in 2011 parsed by project vintage reveals that average capacity factors have been largely stagnant among projects built from 2006 through 2010 (though the maximum capacity factor attained by any individual project in 2011 increased noticeably among projects built in 2009 and 2010, and the fact that rotor scaling continued for projects built in 2011 suggests that further increases in capacity factors are likely in 2012, all else equal).
Three main drivers appear to be behind this stagnation: the average hub height of wind power projects has only increased by a few meters since 2006 (after growing rapidly in earlier years), the average rotor swept area relative to turbine nameplate capacity (i.e., the inverse of "specific power") also held steady during much of this period (though increased considerably in both 2010 and 2011), while the average quality of the wind resource among those projects built in each year has deteriorated significantly since 2008.
This final trend of building projects in progressively less-energetic wind resource sites may be driven by the proliferation of low wind speed turbine designs (see above), siting challenges (including transmission constraints), and even policy design (the value of the Section 1603 cash grant does not depend on how energetic a given site is).
Regional Variations in Capacity Factor Reflect the Strength of the Wind Resource. Based on a sub-sample of wind power projects built from 2004 through 2010, capacity-weighted average capacity factors were the highest in the Heartland (37%) and Mountain (36%) regions in 2011, and lowest in the East (25%) and in New England (28%).
Not surprisingly, these regional rankings are roughly consistent with the relative quality of the wind resource in each region.
Unlike Turbine Prices and Installed Project Costs, Cumulative, Sample-Wide Wind Power Prices Continued to Move Higher in 2011. After having declined through 2005, sample-wide average wind power prices have risen steadily, such that in 2011, the cumulative sample of 271 projects totaling 20,189 MW built from 1998 through 2011 had an average power sales price of $54/MWh.
This general temporal trend of falling and then rising prices is consistent with – but lags, due to the cumulative nature of the sample – the turbine price and installed project cost trends (at least through 2008 and 2010, respectively) described earlier.
Binning Wind Power Sales Prices by Project Vintage Also Fails to Show a Price Reversal. The capacity-weighted average 2011 sales price, based on projects in the sample built in 2011, was roughly $74/MWh – essentially unchanged from the average among projects built in 2010 (the spread of individual project prices is also similar among projects built in 2010 and 2011), and more than twice the average of $32/MWh among projects built during the low point in 2002 and 2003.
Although the similarity in pricing among 2010 and 2011 projects may actually portend a peak (with lower prices likely among 2012 projects), the fact that neither calendar year prices (among a cumulative sample) nor 2011 prices (binned by project vintage) show any sort of price reversal is nevertheless surprising, particularly given the degree to which turbine prices have dropped since 2008, along with growing evidence of aggressive pricing in wind PPAs.
Binning Wind Power Sales Prices by PPA Execution Date Shows Steeply Falling Prices. An abnormally long lag between when PPAs were signed and when projects were built appears to be largely responsible for the stubborn lack of a price reversal in 2011 when viewed by calendar year or project vintage. Only two projects within the sample that were built in 2011 actually signed PPAs in 2011.
All other 2011 projects in the sample signed PPAs in 2010, 2009, or even back as far as 2008 – i.e., at the height of the market for turbines – thereby locking in prices that ended up being above market in 2011. Binning by PPA signing date reveals that the average price peaked in 2009 and then progressively fell in both 2010 and 2011. Among a sample of "full term" wind project PPAs signed in 2011, the capacity-weighted average levelized PPA price is $35/MWh, down from $59/MWh for PPAs signed in 2010 and $72/MWh for PPAs signed in 2009.
Wind Power PPA Prices Vary Widely By Region. Texas, the Heartland, and the Mountain regions appear to be among the lowest-price regions, on average, while California is, by far, the highest price region. California also accounts for nearly one quarter of the 2011 project sample, thereby disproportionately inflating the capacity-weighted average price in 2011 (as it also did in 2010, when it made up almost 20% of the sample).
Low Wholesale Electricity Prices Continued to Challenge the Relative Economics of Wind Power. Average wind power prices compared favorably to wholesale electricity prices from 2003 through 2008. Starting in 2009, however, increasing wind power prices, combined with a sharp drop in wholesale electricity prices (driven by lower natural gas prices), pushed wind energy to the top of (and in 2011 above) the wholesale power price range.
Although low wholesale electricity prices are, in part, attributable to the recession-induced drop in energy demand, the ongoing development of significant shale gas deposits has also resulted in reduced expectations for gas price increases going forward.
While comparing wind and wholesale electricity prices in this manner is not appropriate if one's goal is to fully account for the costs and benefits of wind energy relative to its competition, these developments may nonetheless put the near-term comparative economic position of wind energy at some risk absent further reductions in the price of wind power and absent supportive policies for wind energy.
That said, levelized PPA prices in the $30-$40/MWh range (currently achievable, with the PTC, in many parts of the interior U.S.) are fully competitive with the range of wholesale power prices seen in 2011.
State Policies Play a Role in Directing the Location and Amount of Wind Power Development, but Current Policies Cannot Support Continued Growth at the Levels Seen in the Recent Past. From 1999 through 2011, 65% of the wind power capacity built in the United States was located in states with renewables portfolio standards (RPS); in 2011, this proportion was 78%.
As of July 2012, mandatory RPS programs existed in 29 states and Washington D.C., and a number of states strengthened previously established programs in 2011. However, existing RPS programs are projected to drive average annual renewable energy additions of roughly 4-5 GW/year (not all of which will be wind) between 2012 and 2020, which is less than the amount of wind capacity added in recent years and demonstrates the limitations of relying exclusively on state RPS programs to drive future deployment.
Despite Progress on Overcoming Transmission Barriers, Constraints Remain. Transmission development has continued to gain traction during recent years, with about 2,300 circuit miles of new transmission additions under construction near the end of 2011, and with an additional 17,800 circuit miles planned through 2015.
The wind industry has identified near-term transmission projects that – if all were completed – could carry almost 45 GW of wind power capacity. In July 2011, the Federal Energy Regulatory Commission (FERC) issued an order that requires public utility transmission providers to improve transmission planning processes and to determine a cost allocation methodology for new transmission facilities.
States, grid operators, utilities, regional organizations, and the Department of Energy also continue to take proactive steps to encourage transmission investment. Finally, construction and development progress was made in 2011 on a number of transmission projects designed, in part, to support wind power. Nonetheless, siting, planning, and cost allocation issues remain key barriers to transmission investment, and wind curtailment continues to be a problem in some areas.
Integrating Wind Energy into Power Systems Is Manageable, but Not Free of Costs, and System Operators Are Implementing Methods to Accommodate Increased Penetration. Recent studies show that wind energy integration costs are below $12/MWh – and often below $5/MWh – for wind power capacity penetrations of up to or even exceeding 40% of the peak load of the system in which the wind power is delivered.
The increase in balancing reserves with increased wind power penetration is projected, in most cases, to be below 15% of the nameplate capacity of wind power, and typically considerably less than this figure, particularly in studies that use intra-hour scheduling.
Moreover, a number of strategies that can help to ease the integration of increasing amounts of wind energy – including the use of larger balancing areas, the use of wind forecasts, and intra-hour scheduling – are being implemented by grid operators across the United States.
Installed Wind Capacity
The animation shows the progress of installed wind capacity between 1999 and 2012.
With federal tax incentives for wind energy currently slated to expire at the end of 2012, new capacity additions in 2012 are anticipated to exceed 2011 levels and perhaps even the highs in 2009 as developers rush to commission projects.
At the same time, despite the improved cost, performance, and price of wind energy, policy uncertainty – in concert with continued low natural gas prices, modest electricity demand growth, and the aforementioned slack in existing state policies – threatens to dramatically slow new builds in 2013 and beyond. Forecasts for 2013 and beyond therefore span a particularly wide range, depending in large measure on assumptions about the possible extension of federal incentives.