Wind power is seen by many as one of the best bets to achieve a sustainable energy future.
General Electric and Gama Holding have completed its second wind farm project in Turkey. General Electric is the biggest maker of wind turbines in the U.S. The company recently surpassed 2 GW of installed capacity worldwide.
The 10 MW project Karadag farm in Izmir in the Aegeon region went online this month with four 2.5 MW turbines. Like many other countries, Turkey is trying to increase the share of sustainable renewable power in its energy mix and has set a goal of 30 percent for 2023. The developing nation's electricity demand grows at a rate of six percent per year, according to official estimates.
"Our partnership with GAMA reinforces our commitment to investing in and building our presence in the global renewable energy market," said Andrew Marsden, managing director, Europe at GE Energy Financial Services.
Turkey is a strategic growth area for GE and the company has been investing in that country for more than 60 years.  With six facilities and over 600 employees, GE today powers nearly 25 percent of Turkey's electricity needs.
Earlier in March, GE and Gama inaugurated the 22.5 MW Sares wind farm and together the operations will generate enough electricity to power 59,000 average Turkish homes and prevent 80,000 tons of greenhouse gas emissions a year.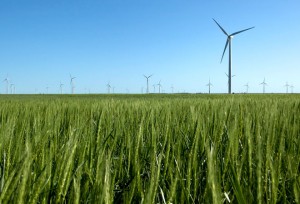 Wind power is seen by many as one of the best bets to achieve a sustainable energy future. It is the most popular source of renewable electricity. At the end of the 20122, wind-powered generators achieve the record figure nameplate capacity of 238 GW, which was 41 GW more than the previous year. The World Wind Energy Association says that wind power has the capacity to generate 430 TWh per year, or 2.5 percent of the global electricity usage.