Sanna Rissanen works as a Service Technician and is based in Sodankylä, Finland where the northernmost Nordex Service point is located. Sanna grew up in the same town but moved to Rovaniemi to study and later work as an electrician. During a visit to her childhood home in 2015, an unusual job ad written in English drew her attention in the local newspaper and made her pick up the phone to apply to Nordex Group. Fresh out of vocational school, Sanna was first offered a Junior Service Technician position in Kalajoki and later she returned back to Sodankylä to work as a Service Technician.
Sanna belongs to a small team of five which maintain turbines in two nearby wind parks. The northern location definitely adds some extra challenges to the routines as proper winter clothing is crucial and the heavy snow falls might complicate accessing the parks. She describes the responsibilities as being highly versatile – although the yearly rotation of tasks usually remains the same, each week offers different challenges and work assignments. On windy days with full production speed, the team minimizes visits to the turbines and stays at the Service point with on-call duty. Service Technicians not only have the responsibility of physical repairs, but also need IT skills to master computers and take part in regular trainings in order to know the products and to work safely at heights.
"This job is not for you if you are afraid of heights", Sanna says, and indeed, the Service Technicians need to be prepared to spend time on top of the turbines. Due to small teams and most of the work being done in pairs, she highlights the importance of teamwork skills and co-operation with colleagues. The close-knit teams share their challenges and achievements together, and according to Sanna, there is always a possibility to ask and learn from each other in their national Nordex Service network.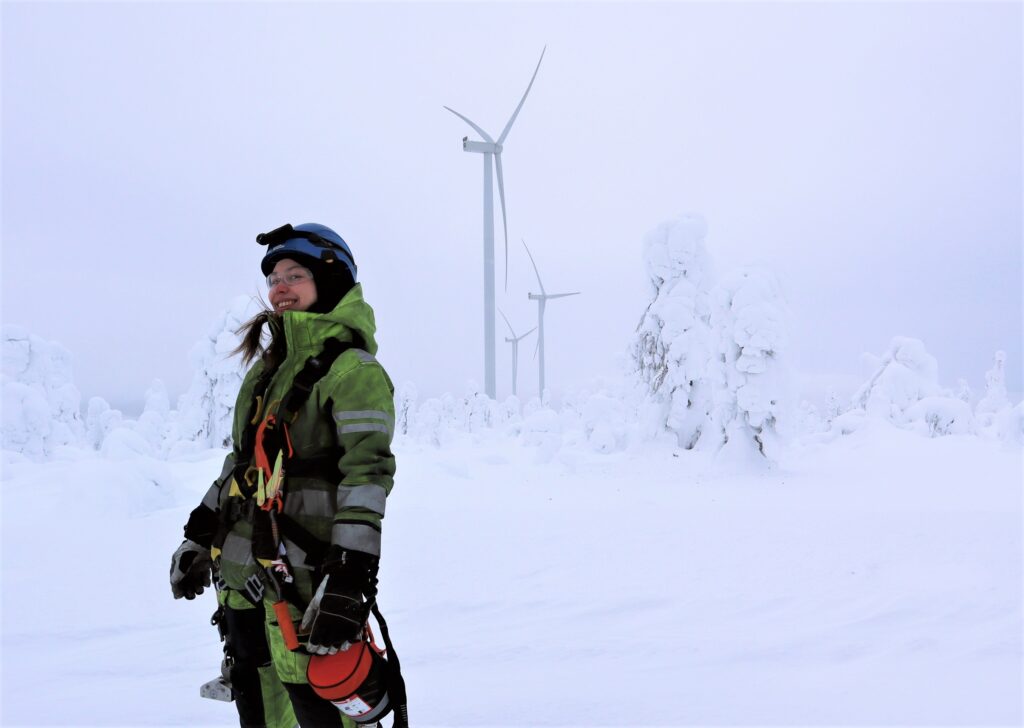 Because Nordex Finland continues to grow, new employees are sought for Sanna's team in Sodankylä as well as for many other Service points across the country. As the only female Service Technician in her group, she would like to encourage other women to apply for the open positions with an open-minded attitude. She thinks the physical aspect of the work might scare some potential job seekers off, and although one of the job requirements is passing applicable physical examinations, the tools used in the work offer a great help.
Besides welcoming new colleagues to the team, Sanna is expecting the near future to bring only small changes to her daily work. She will soon finalize her Bachelor's degree in Engineering which she completed alongside full-time work. Luckily, she was able to write her final thesis for Nordex. The future might hold further exciting opportunities as Sanna names self-development possibilities, continuous learning and flexibility as the most important reasons for staying at Nordex already for 6 years.
Learn more about the open Service Technician positions and apply to work at Nordex by visiting our career portal.