The Canada Pension Plan Investment Board has signed a deal to buy 49 per cent of pipeline company Enbridge Inc.'s interests in a group of renewable power assets for $1.75 billion.
Enbridge says the agreement will see the creation of a joint venture that includes all of its Canadian renewable power assets, held through Enbridge Income Fund, as well as the Cedar Point Wind Farm in Colorado and the Silver State North Solar Project in Nevada.
The deal also includes Enbridge's interests in two German offshore wind projects.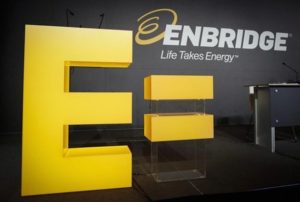 Enbridge says it will keep its interests in certain other U.S. renewable power assets.
Under the agreement, CPPIB will fund its share of the remaining costs to complete the German offshore wind projects, estimated at about $500 million, bringing the pension fund's total commitment to about $2.25 billion.
Enbridge and CPPIB have also signed a deal to form a 50-50 joint venture to pursue future European offshore wind projects.