Twenty-five pupils from the John Whitgift Academy in Grimsby visited the construction site for Race Bank Offshore Wind Farm [on 5 July 2017 to learn more about offshore wind and the variety of jobs available in the industry.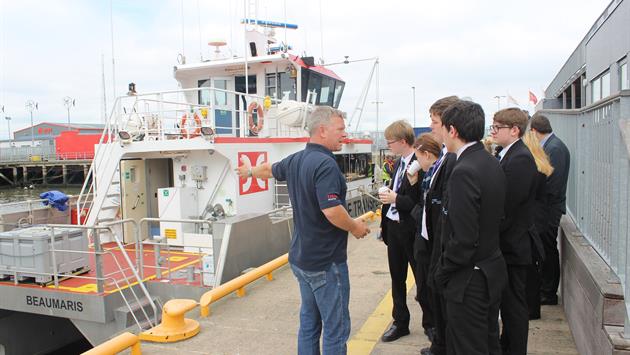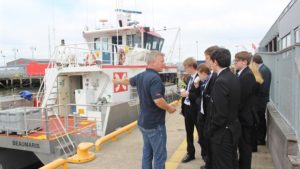 The visit was organised as part of DONG Energy's three-year partnership with charity Teach First, which  aims to address educational inequalities in the Grimsby, Hull and Liverpool, particularly focusing on increasing the number of teachers of STEM subjects placed in these areas.
Race Bank Offshore Windfarm is under construction by DONG Energy 17.4km off the Lincolnshire Coast and when operational in 2018 will have a capacity of 573MW, enough to power over 500,000 UK homes.
The group of 14 – 16 year olds heard about the growing offshore wind industry and what goes into building an offshore wind farm, before taking a tour of the site to see what the workplace is like.
The pupils also learned about the different jobs that exist in the industry including DONG Energy's new apprentice scheme, launched earlier this month, which offers apprenticeship places in Grimsby. They finished with a session delivered by Teach First, with the assistance of DONG Energy volunteers, on transferable skills and CV-writing, with the aim of helping pupils prepare for the workplace.
Matt Bee, Assistant Principle of John Whitgift Academy, said:
"It's invaluable that year 10 pupils get real world experience of workplaces and that they learn about the potential routes into those workplaces, such as the apprenticeships that DONG Energy offer."
Natasha, a Year 9 pupil said:
"My favourite part of today was seeing the vessel and learning about what it's used for and where it's from."
Kieran-Lee, who's in Year 10, said:
"I liked learning about what I could do after leaving school and apprenticeships, and about what I could do in the future in the world of engineering, as I want to work in this industry. I also enjoyed learning about what jobs need more people and meeting lovely volunteers"
Rob Howes, Learning and Development Specialist, DONG Energy said:
"Investing in the Humber is more than just financial investment for us, it's about investing in education for young people to develop future engineers and a skilled workforce. For school leavers, our new apprentice scheme has had an overwhelming number of applications from people in the local area already, and our partnership with Teach First targets younger pupils, developing strong relationships with local schools to show young people the range of high quality, skilled jobs that are available right here in Grimsby."
Last year DONG Energy announced plans to build a GBP multimillion operations hub in Grimsby to serve its existing and future windfarms in the area. The company has committed to investing around £6 billion in the region by 2019.
The relationship with John Whitgift Academy will continue into the summer when two lucky pupils will be given the opportunity to undertake work experience with the offshore wind developer, spending a week at the construction site followed by a week at the Marine and Helicopter Coordination Centre. The two-week placements will take place in August and give the chosen applicants a great insight into possible roles within the industry, and a bit of experience should they choose to progress further.
DONG Energy in Education
DONG Energy has a number of educational initiatives to inspire young people to access the growing offshore wind industry and develop the skills they need for a bright future:
In February 2017 the company announced a three year partnership with educational charity Teach First, to address educational inequalities in the North. As part of this DONG Energy support Teach First on a number of challenging targets to improve the teacher attraction and retention, and pupil progression Grimsby, Hull and Merseyside.
This year DONG Energy launched a wind turbine technician apprentice scheme, based in Grimsby. The three-year apprenticeships will comprise of one year of classroom based learning at the Grimsby Institute followed by two years working on site with DONG Energy. The apprentices will undertake a BTEC Level 3 in Engineering, and if they successfully complete the programme will become full-time employees at DONG Energy.
DONG Energy has an ongoing partnership with Durham University, through funding the Chair in Renewable Energy position at Durham Energy Institute, and endowing three MSc scholarships for Durham University students each year since 2011.
As part of the Walney Extension community benefit fund, we are providing £100k a year to a Walney community skills fund which will:

Pay into local college hardship loans to help students in the Cumbria and Lancaster area through contributing to local college hardship loans to pay for travel, books and childcare.
Provide funding for existing students wishing to study engineering courses at Furness College in Barrow-in-Furness beyond Government funded schemes.
Support a STEM outreach programme, run by the Royal Academy of Engineering in Barrow-in-Furness to inspire primary and secondary school and college students to go into engineering.
We are a charity with the vision that no child's educational success should be limited by their socio-economic background. Our mission is to end inequality in education by building a community of exceptional leaders who create change within classrooms, schools and across society.
Our charity invests in the power of people to change lives by:
finding and developing great people to teach and lead in schools serving the low income communities
increasing the attainment and aspirations of pupils and their access to higher education and employment; and
building a movement of teachers, school leaders, social entrepreneurs, policy makers and business people who are committed to ending educational inequality.
Since 2003, Teach First has placed 10,000 leaders in schools serving low-income communities, reaching over 1 million young people.

For more information, please visit: http://www.dongenergy.co.uk