The contract covers thirty-three AW125/3000 wind turbines mounted on 120-meter-high concrete towers. Construction work on the Vila Pará complex in Rio Grande do Norte will start in 2016.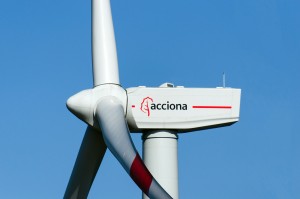 ACCIONA Windpower, the ACCIONA Group subsidiary that designs, manufactures and markets wind turbines, has signed a contract with wind power developer Voltalia for the supply of 99 megawatts (MW) total capacity for the Vila Pará wind farm in the state of Rio Grande do Norte (northeastern Brazil). The contract covers the supply, transportation, installation and commissioning of the 3-MW wind turbines, as well as a long-term maintenance service agreement.
The AW125/3000 model turbines each have a rotor diameter of 125 meters and a capacity of 3 MW. They will be assembled in the plant that ACCIONA Windpower opened in Simões Filho (Bahia) last December. The 120-meter towers to support the turbines will also be built by the company in Brazil, in its plant at Areia Branca located near the future wind farm.
Supplies for the Vila Pará wind farm are planned to take place in 2016. The complex was awarded to Voltalia in the Leilao A-5 call for tender in 2013 and the decision made by the Brazilian Government in December that year.
"This new contract with Voltalia confirms the competitiveness of our AW3000 wind turbine in Brazil and the increasing presence of our company in one of the most dynamic wind power markets in the world", says Christiano Forman, ACCIONA Windpower Director in Brazil. "We would like to thank Voltalia once again for the confidence they has shown in our product, and we hope to continue working with them on the wind power development of the country," he adds.
1,119 MW SOLD IN BRAZIL
The Vila Pará project is the fourth supply contract signed by ACCIONA Windpower for wind farms in which Voltalia holds a stake in Rio Grande do Norte. It joins other contracts for the wind power complexes of Areia Branca (90 MW), Saõ Miguel do Gostoso (108 MW), both 100% owned by Voltalia and already operational, and Vila Amazonas (93 MW), which belongs to a consortium involving Voltalia, Chesf and Encalso. This wind farm is currently under construction.
With the new contract, ACCIONA Windpower has sold 1,119 MW of capacity in Brazil since it began marketing its AW3000 wind turbine in 2012. The range has shown itself to be highly competitive and adaptable to the variety of prevailing wind conditions in the country, and it offers a high level of reliability and performance at a low energy cost in relation to the power generated.
ACCIONA Windpower currently has a workforce of 293 people in Brazil, and the company's activity has created or consolidated more than 1,000 direct and indirect jobs in the country.