The European Commission Joint Research Centre (JRC) has released the third edition of its annual report on the technology, market and economic aspects of Wind Energy in Europe and the world.
Wind energy is an attractive alternative to fossil fuels. It is plentiful, renewable, widely distributed, clean and produces no greenhouse gas emissions.
Onshore wind energy is a mature technology that is nevertheless undergoing continuous improvements. Currently, R&D is primarily focused on maximising the value of wind energy and on taking the technology offshore, where public opinion is more supportive of new wind farm installations. Although its share of total wind capacity remains small, the offshore wind sector saw another record year in 2013, with 1.6 GW of new capacity connected to the grid. Offshore wind power installations accounted for nearly 14% of total EU wind power installations in 2013, up 4% from 2012.
The trend for offshore wind farms is to build them further away from shore and in deeper water.
Wind power is the renewable energy technology with the largest and most successful deployment over the last two decades, expanding from 3 GW to 370 GW of global cumulative capacity at the end of 2014. In Europe, 130 GW of both onshore and offshore wind installations are connected to the grid, and six countries (Denmark, Portugal, Ireland, Spain, Romania and Germany) generate between 10 % and 40 % of their electricity from wind.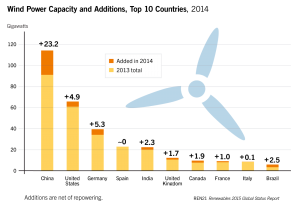 Wind energy will provide at least 12 % of electricity in Europe by 2020, which is a very significant contribution to the 20/20/20 goals of the 2020 European energy and climate policy.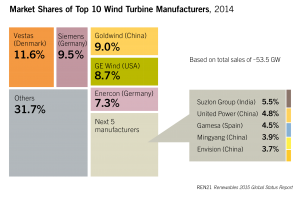 European manufacturers have supplied 43.5 % of the 52 GW of wind turbines installed in the world in 2014. If Chinese installations are not considered, European turbine manufacturers provided 78% of the remaining installations worldwide.
The levelised cost of onshore wind electricity in selected Member States varied between EUR 45 and 97 per MWh in 2012, with more figures reported towards the lower end of the range. The most recent figures put the cost of offshore wind energy between EUR 90 AND 150 per MWh.
Although this report is Europe-centric, the wind sector is a global industry; therefore some of its sections have a global scope. The report is based on:
JRC research work on wind technology;
JRC databases on wind turbines and installations;
modelling work;
work performed in support of the European Wind Industrial Initiative;
research by key players from industry and academia;
consultation with the wind energy industry.
The report has been reviewed by experts in the European wind energy field.
A special section in this year's report shows the regulatory framework in the EU Member States, in particular regarding support schemes, but also focusing on grid issues and potential barriers.