Today, Gamesa, a global technology leader in wind energy, officially inaugurated its expanded nacelle assembly factory in Camaçari, in the north-east of the state of Bahia, from which it will make all the 2.0 MW – 2.5 MW platform wind turbines earmarked for the Brazilian market.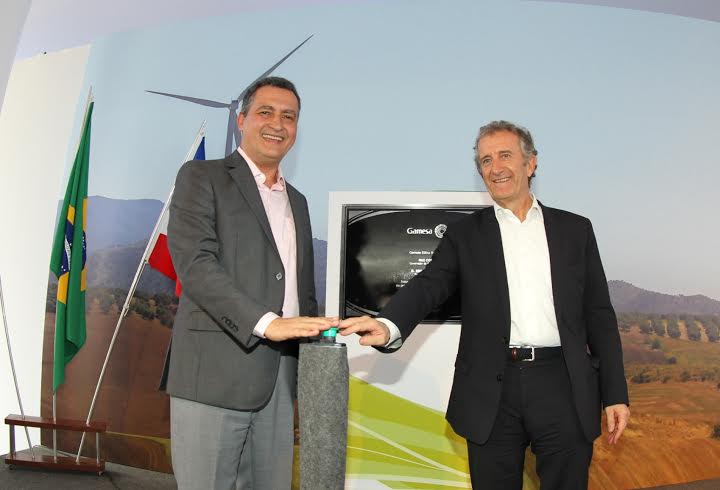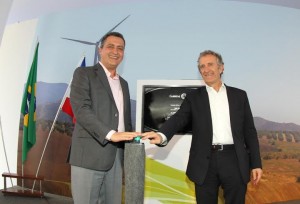 The facility's inauguration ceremony was presided by the Governor of Bahia, Rui Costa dos Santos, and the mayor of Camaçari, Ademar Delgado. The executives attending on behalf of Gamesa included its Chairman and CEO, Ignacio Martín, its Business CEO, Xabier Etxeberria, its CEO in Latin America, José Antonio Miranda, and the Managing Director in Brazil, Edgard Corrochano, among others.
In wake of this expansion work, up and running since September 2014, the factory's productive capacity has increased to 640 MW. The factory has been equipped with a multi-model production line: it currently produces nacelles for the G97-2.0 MW turbine and, from January 2016, it will begin to manufacture the G114-2.0 MW, a turbine that cuts the latter model's cost of energy by 10%. Both turbines are part of Gamesa's 2.0-2.5 MW platform, 1,000 MW of which have already been installed in Brazil.
The growth in Gamesa's operations in this market will enable it to double its headcount to 570 by year-end 2015.
"The start-up of this facility evidences our industrial pledge in Brazil and our commitment to developing the country's wind power and broader manufacturing infrastructure. This expansion reinforces our operations in one of Gamesa's priority markets: in 2014, Brazil accounted for 22% of total MW sold. Gamesa is one of the leading OEMs in this market thanks to a business strategy that combines global leadership with local know-how, along with a strong commitment to local community development in terms of wealth generation, job creation and purchases from and alliances with local suppliers", underscored Ignacio Martín, Gamesa's Chairman, during the inauguration ceremony.
Since it established a manufacturing foothold in Brazil back in 2011, Gamesa has invested over €35 million in the country, nurturing a competitive local supply chain of over 1,000 suppliers in the process.
During the last four years, the company has installed over 1,000 MW and has firm orders for the supply of another 1,500 MW in the years to come at projects being developed in the country's windiest regions. It also services close to 700 MW for various customers under O&M agreements.