Seeking to tap the power of wind's overwhelming support, AWEA has launched a membership campaign that includes individual memberships–both for those professionally involved in the industry as well as for the general public.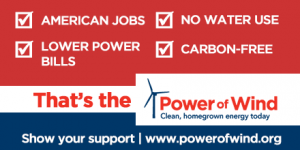 AWEA has set a goal of gaining 8,000 contributing members by Global Wind Day, June 15. Two separate membership categories allow individuals to show their support for wind energy in a concrete way. Members in both categories receive benefits ranging from access to AWEA webinars to AWEA's popular "I heart wind" sticker.
The categories:
Power of Wind Membership. Survey after survey shows America wants more wind energy. Now AWEA is going directly to members of the public to make sure they're heard. The Power of Wind Membership opens up an opportunity for the general public to support wind energy directly through AWEA. Details on that membership category are available at powerofwind.org/member.
Power of Wind Industry Membership. Wind energy leaders increasingly are calling on their colleagues to speak out about their firsthand knowledge of wind's economic benefits, particularly given that the collective industry's voice is 73,000 strong nowadays. The Power of Wind Industry Membership gives people who work in wind or have a professional interest in it a platform to show support for the energy source that impacts their lives in the form of jobs. Details of the Power of Wind Industry Membership is available at powerofwind.org/powerofwind/membership.