The United States and China have been competing for the title of "Number One" wind energy giant in the world.
New figures from Bloomberg New Energy Finance outlining investment numbers from 2014 show that China once again saw more wind energy installations over the year.
However, the American Wind Energy Association continues to claim that what really counts is energy generated, placing the US at the top of the pile.
Bloomberg New Energy Finance (BNEF) released global wind energy installation figures for 2014 on Thursday.
US wind energy installations grew six-fold in 2014, reaching 4.7 GW by the end of the year. However, China's new installation figures outdistanced anyone else's by a ridiculously large margin. According to BNEF, China's installations grew 38% on 2013, reaching 20.7 GW for the year — over four times as much as the US, and more than 40% of all new capacity globally. This brings China's cumulative wind energy capacity up to 96 GW of grid connected capacity.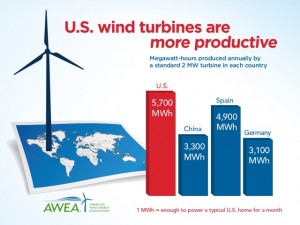 "2014 was a boom year for China's wind industry, thanks to developers rushing to complete projects ahead of the looming feed-in-tariff cut," said Yiyi Zhou, China wind analyst for BNEF. "Most of the new build in 2014 came from domestic wind turbine suppliers, while foreign manufacturers took less than 2% of the market."
Bloomberg New Energy Finance placed China's success on the success of a "policy-driven rush to build" before onshore tariffs are lowered, which is expected to take place later this year.
As we've covered before, however, the American Wind Energy Association (AWEA) believes that the real measurement should not be installed capacity, but rather "the total amount of electricity … that each country produces from wind and delivers to customers each year."
James Walker, a member of the AWEA, has written two separate blog posts which each say exactly the same thing — one in November, and one now in January (which may very well be the same post, republished).
With that in mind, the United States takes first place, delivering over 167 billion kWh of wind energy in 2013, over 20% more than China, which delivered just under 138 billion kWh in 2013.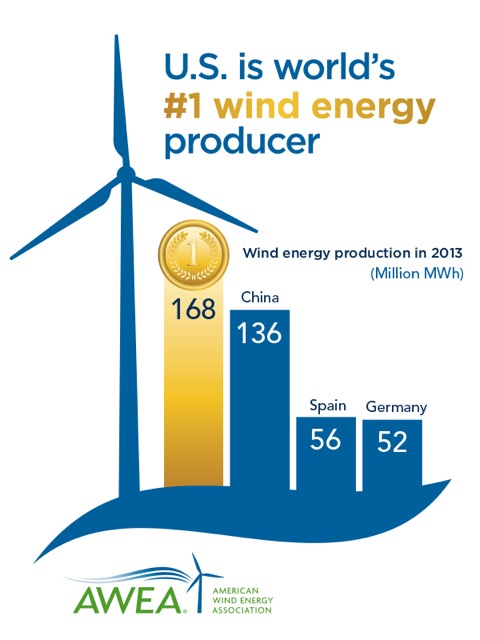 However, China and the US were not the only countries to install wind energy in 2014.
Germany, Brazil, and India round out the top 5 markets behind China and the US, with 3.2 GW, 2.9 GW, and 2.3 GW respectively — with Germany and Brazil's figures representing records for those countries.
According to BNEF, "policy drove Germany's record year," as wind energy developers aimed to take advantage of a grace period of the outgoing support system, following the announcement of new and stricter regulations.
"This year has seen a couple of special circumstances come together, so it probably isn't a blueprint for future development," said David Hostert, European wind analyst for Bloomberg New Energy Finance. "What is remarkable though is that more than 1GW was repowered with new turbines on existing projects. This means making better use of existing wind sites and opening up new opportunities for developers and asset owners in a mature market."