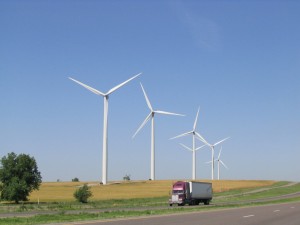 In 2004, Colorado became the first state in the nation to create a Renewable Energy Standard at the ballot box.
That year, citizens called for the state to get 10 percent of its energy from renewable sources.
Lawmakers took this mandate and raised the bar further, first to 20 percent–then again to 30 percent. Investors and companies have rewarded the state for its efforts.
Today, nearly 20,000 Coloradans work in the clean energy sector and the equivalent of more than two large nuclear reactors' worth of renewable energy capacity is either online or in the queue.
In spite of these gains, a handful of private interest groups are trying to roll back progress on renewable energy in states like Colorado with faulty reasoning. At the same time, Colorado is becoming a victim of its own success, nearing a renewable energy plateau that will require an even stronger commitment to build on the investments that have already been made.
As an investor in businesses that are benefiting from the state's greener power grid, I hope the state will stay the course and keep its renewable energy ambition high.
In every sector, investors and businesses look for policies that are long-term, that provide a strong signal to invest and that don't generate uncertainty by changing frequently. In other words, investors prefer policies that are long, loud and clear. When outside critics press Colorado legislators to water down the renewable energy standard, they're denying Coloradans clear economic benefits by sending companies and their investors the signal that the state won't be open for business.
Other groups are trying to paint renewable energy policies as anti-business. Our firm manages more than $2 billion in assets, and that's not what I hear from executives at the companies we invest in. Instead, they are finding opportunities in renewable energy, not burdens. A recent report shows that a solid majority of Fortune 100 companies–and over two-thirds of the Global 100 companies–have set renewable energy or greenhouse gas reduction goals.
Expect this trend to continue: Ernst and Young surveyed corporate executives around the world and found that a majority of them expect to increase their renewable energy purchases over the next five years.
These companies are looking to build up their renewable resources, and Colorado has clearly given them reason to invest. Between IKEA, Kohl's and REI stores in the state, corporations have installed more than 1.7 megawatts of solar power. Prologis, a Denver-based national property owner, has done even better, building up more than 75 megawatts of solar power on its distribution facilities throughout the country. Each of these firms is making money from roof real estate that would have otherwise gone unused.
But it's not just the corporate purchasers who are getting in on the opportunity. All of the companies that manufacture, install and service renewable energy facilities are a growing piece of Colorado's economy. More than 250 companies are involved in the solar industry, installing solar arrays, producing components and providing thousands of high-quality, high-tech jobs. Wind energy alone employs several thousand Coloradans and already supplies the state with roughly 10 percent of its electricity.
Critics might claim that renewable energy is too expensive, but their facts aren't up to date. Over the past five years alone, solar panel costs have dropped by about 80 percent. In 2012 alone, panels got 24 percent cheaper. Wind power costs have fallen 90 percent since 1980. And once a solar or wind farm is constructed, there's no long-term cost for fuel.
When you get beyond short-term thinking and start looking at long-term value, it's clear that renewable energy is the right investment for Colorado.
Related articles:
Kansas interfaith group says: Maintain state renewable standard, February 13, 2013
Wisconsin PSC: RPS has economic benefits, negligible rate impact, June 25, 2012
California PUC: Renewable energy procurement up in 2011, costs falling, February 8, 2012
Mich. Public Service Commission: Renewable energy cheaper than coal, March 2, 2012