The BMW i3 electric concept car marks 40 years of electric vehicles from the Bavarian automaker. Looking back on the history of BMW's electric efforts is interesting for anyone who thinks the capabilities of today's EVs would have been out of reach a generation ago.
I say that primarily because of the BMW E1. A 1991 prototype first shown at the Frankfurt Motor Show, the E1 was BMW's first purpose-built electric car, featuring a lightweight construction that helped it obtain a range of about 100 miles– on 1991?s sodium-based battery technology.
BMW developed this, the E1 electric car, as a concept in 1991. It would travel up to 100 miles on a single charge and reach a top speed of 78 mph. Not bad for 1991 EV tech, eh? (BMW photo courtesy www.eurocarblog.com.)
The motor made 32 kW (about 42 horsepower) and a thick, 111 lb-ft-sized dollop of torque. That's nearly double the horsepower and four times the torque output of the first Volkswagen Beetles over a distance that even new EVs such as the Nissan Leaf seldom reach on a single charge. According to BMW literature, the E1 reached a terminal velocity of 78 mph– something a LEAF can do, but an early Beetle had no prayer of achieving.
The first mass-produced electric vehicles from BMW's "i" division will be shipped to dealers in China in 2014, BMW Group's senior executives said at the Los Angeles auto show early this month.
The i3 battery-powered vehicle and i8 plug-in hybrid sports car will be sold in BMW's "5S" dealerships in China, its top outlets that have added "sustainability" to the standard 4S functions of sales, spare parts, service and surveys.
BMW has seven such dealerships in several Chinese cities including Beijing, Shanghai, Tianjin, Shenzhen and Chengdu.
BMW Group unveiled the "i" sub-brand last year at its global headquarters in Munich.
Volume production of the i3 and i8 is scheduled to begin next year.
The i3, BMW's first mass-produced electric model, is a four-seater built for the city.
The i8 plug-in hybrid will be based on a super car platform that will offer strong performance with lower emissions.
The BMW i3 coupe concept model that made its world premiere at the Los Angeles auto show can produce top power of 125kW and accelerate from zero to 100 km in just eight seconds.
The battery takes six hours for a full charge or an hour for an 80 percent charge. BMW said the vehicle can drive about 160 kilometers on a single charge.
Lighter body
The frame for BMW i vehicles is made from carbon fiber reinforced plastics to offset the weight from their battery pack and powertrain. BMW said use of the high-tech material in mass-produced vehicles is unprecedented.
The BMW i cars will be built at a newly renovated BMW plant in Leipzig, Germany.
The carmaker began production of carbon fiber last year at its plants in Wackersdorf, Germany and Moses Lake in the US state of Washington.
With an initial capacity of 3,000 tons, the two plants will start supplying the Leipzig car plant in 2013.
BMW Group inaugurated the "Project i" program in 2007 to develop energy-efficient, lightweight and eco-friendly electric cars for use in cities.
It held road tests of a Mini electric beginning in 2011, followed by similar tests of BMW ActiveE all-electric vehicles in 2012.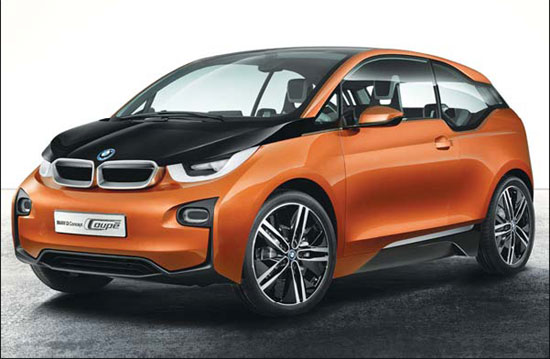 The BMW i3 electric offers 125kW in power and can accelerate from zero to 100 km in eight seconds.

Some 500 Mini E pure-electric cars were road tested in several locales around the world including Beijing and Shenzhen.
A total of 1,100 ActiveE vehicles had road tests worldwide, including 700 tested in the US.
In San Francisco, home to BMW's US technology office, the carmaker now has a fleet of 70 ActiveEs for lease and eight charging stations.