State Grid Corporation of China (SGCC), the country's largest state-owned utility company, announced a plan to allow small-scale distributed solar power generators to connect to its power lines.
China is creating supportive measures to shore up its ailing photovoltaic (PV) industry, which has been rocked by recent U.S. duties on Chinese exports over alleged dumping.
Under the plan, SGCC will allow solar power generators with less than 6 megawatts of installed capacity to be connected to the grid.
SGCC will also provide technological assistance and waive charges associated with connecting to the grid, Wang Xiangqin, SGCC deputy chief economist, said.
The move will boost domestic demand and buoy the solar industry, which had heavily relied on overseas markets, analysts said.
Connecting distributed solar power to the national grid is a "crucial step" in removing obstacles that have contained the development of China's solar industry, said Shi Lishan, deputy director of the new and renewable energy department of the National Energy Administration (NEA).
Connecting to the national power grid has been difficult for many solar power companies, as there are numerous obstacles preventing them from easily doing so.
China's push for more renewable energy has created thorny integration issues for the operators of the country's bulk-power network because of a lack of control and variability in energy resources.
Distributed generation, however, will offer a solution.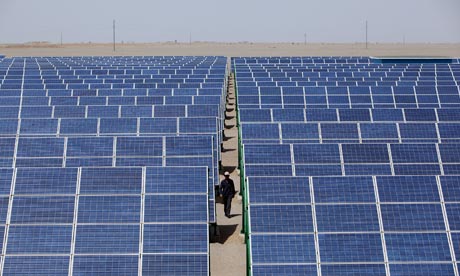 Compared with centralized generation, which connects distant solar or wind facilities to customers, distributed generation will cause less damage to the grid and decrease transmission losses, said Lai Xiaokang from the China Electric Power Research Institute.
Chinese solar companies, which are facing punitive tariffs stemming from anti-dumping and anti-subsidy probes launched in both the U.S. and Europe, are pleased to hear the news.
The new plan is an important move made by the central government to help the solar PV industry through its current hardship, said Tong Xingxue, president and chief operating officer of LDK Solar Co., a leading producer of solar wafers.
LDK Solar experienced a fiscal loss in the first quarter as a result of oversupply, price declines and waning overseas demand, as the European Union has cut subsidies for green energy. The European market consumed more than 60 percent of China's solar product exports last year.
To help expand the domestic market, NEA announced an initiative last month to develop distributed solar power plants on a larger scale, encouraging local governments to unveil new solar power projects.
The country vowed to increase its installed generation capacity for solar power to over 21 million kilowatts by 2015, according to a recently released white paper China's Energy Policy 2012.
Chinese governments and banks have also issued preferential policies for solar companies, such as issuing credit to build up plants and expand production.