The president of the government of the Republic of Peru, Ollanta Humala, formally opened the T-Solar Group photovoltaic solar-power plants in the Majes and La Joya districts, located in the Arequipa region of southern Peru.
The power plants at La Joya and Majes (Arequipa) are T-Solar's first business project in Latin America, with a capex of over $165m. Marta Martínez, T-Solar CEO, thanked the Peruvian government for its support and for its commitment to clean, sustainable energy. President Humala was accompanied by the Peruvian minister for Energy & Mining; regional and local authorities, and representatives from business and industry.
Known as the Repartición and the Majes plants, they will have an output of 80 GWh a year. This is enough electricity to serve a town of up to 80,000 inhabitants. The plants were connected to Peru's national grid in July 2012.
The two new plants, with an installed capacity of 44 MW, are the first major photovoltaic solar-power project in Latin America. They are the outcome of an investment of more than $165m.
Marta Martínez, T-Solar CEO, thanked the Peruvian government and the local and regional authorities in Arequipa for their support.  "The T-Solar Group is putting down roots in Peru. We are most grateful for the help we have received in this project from the government of Peru and its institutions. The Ministry of Energy & Mining has played a fundamental role in moving it forward, as have the local and regional authorities in Arequipa," she said.
The opening ceremony was attended by the minister of Energy & Mining, Jorge Merino Tafur, who accompanied president Humala. The local authorities were represented by the mayor of Arequipa, Alfredo Zegarra and the regional minister, Henrry Percy Ibañez Barreda. Several representatives of Peru's financial and business interests also attended.
Entities from the United States (OPIC), the Netherlands (FMO) and France (PROPARCO) were involved in the funding to build and commission the Repartición and Majes photovoltaic plants. The project has been considered an example of best practices in international funding. The T-Solar Group was awarded the  "2011 Latin American Renewables Deal of the Year" for it in New York.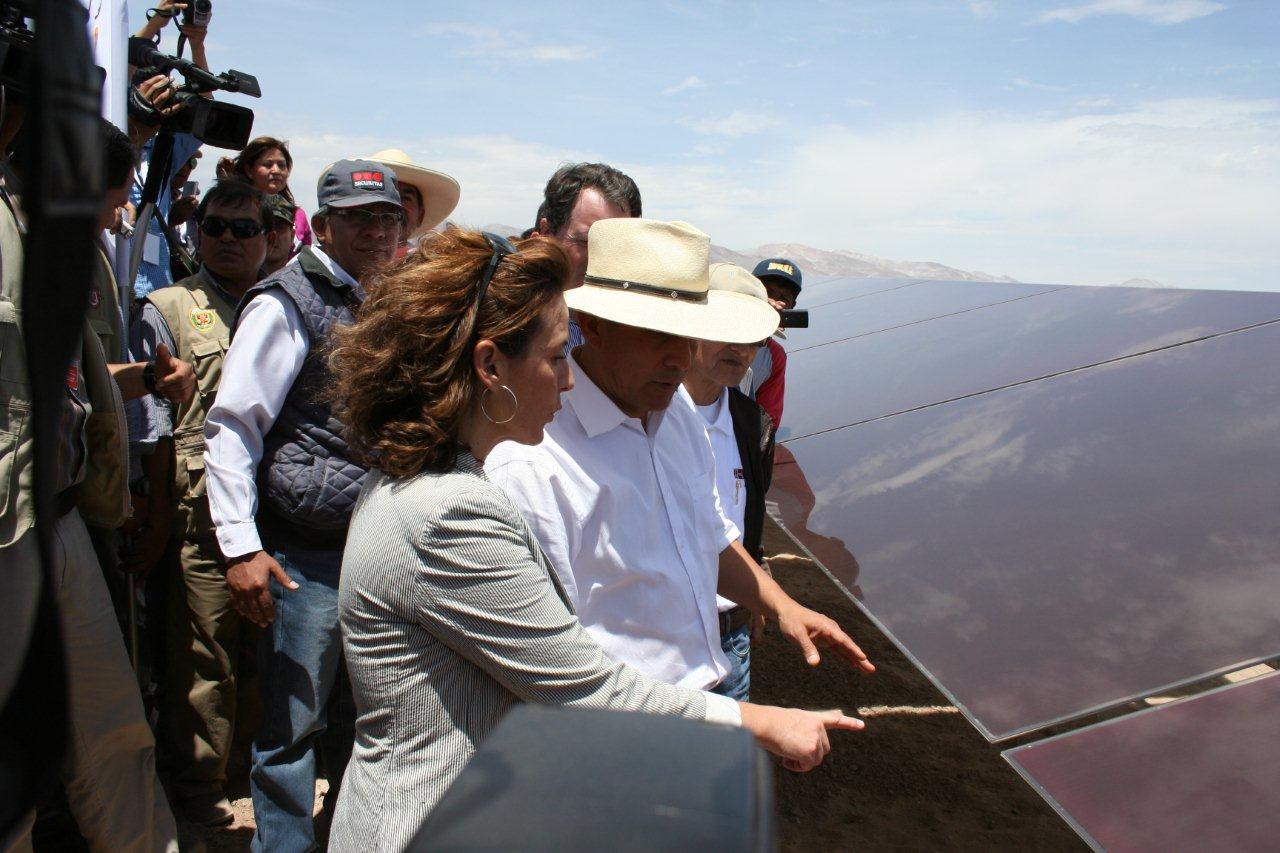 T-Solar is a major independent power producer generating solar photovoltaic energy. A subsidiary of Isolux Infrastructure, it has 216-MWp installed capacity under production in 45 plants, located in Spain (34), Italy (8), India (1) and Peru (2), plus a further 67MW under construction in India, California and Puerto Rico. Its solar PV plants currently generate over 250 GWh a year. This is equivalent to the average annual electricity consumption of a town of 51,000 households. In 2011, the T-Solar Group reported over €125m in revenues and accumulated capex of over €1.2 bn.
http://www.evwind.com/2012/10/27/energias-renovales-humala-inaugura-las-centrales-de-energia-solar-fotovoltaica-de-t-solar-en-peru/