McKinsey estimates that the total electric bus fleet could grow to 100,000 units in China by 2016.
China's electric-vehicle industry is falling behind other major auto markets as sales decline sharply and market share remains low, a report by global management consultants McKinsey & Co said on Monday.
Only 235 electric vehicles were sold in the second quarter of the year in the world's largest auto market, a 31 percent drop from the 343 units sold in the first quarter, which was the sharpest decline among the world's major auto markets, the report showed.
The poor performance in China stands in contrast to the United States, where 7,931 such vehicles were sold during the same period, a 28 percent jump from the first quarter, as well as Japan's 4,240 units, France's 2,056, and Germany's 1,284.
Axel Krieger, leader of McKinsey's China Auto Hub, said the decline in China was a result of "short supply in batteries, underdeveloped infrastructure, as well as low recognition among customers".
Although McKinsey defines electric vehicles strictly as battery electric vehicles, Krieger said the result wouldn't be much affected even if hybrid electric vehicles were taken into account.
Larry Wang, a partner at McKinsey, said the sluggish sales was also partly a result of less supporting policies such as those seen during the Beijing Olympics and Shanghai World Expo.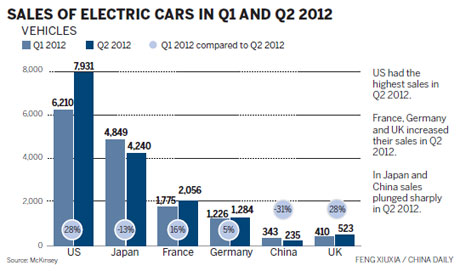 A series of reports including a self-igniting taxi in Hangzhou and a vehicle explosion in Shenzhen have put the safety issue of new energy vehicles under the spotlight. Although no defects were found in the design and quality of these vehicles, customers' confidence was overshadowed by the accidents.
In April, the State Council approved a five-year development plan for the country's energy-saving and new-energy vehicle industry, aiming to increase the production and sales volume of battery electric vehicles and plug-in hybrid electric vehicles to 500,000 by 2015, and 5 million to 2020, in an effort to meet the country's emission cutting goals.
However, the share of electric vehicles in China remains particularly low, according to the report, with just 7,834 electric vehicles out of more than 48 million cars sold since January 2009.
The share represents only 0.02 percent of the total auto market in China, lower than that of other major markets such as 0.16 percent in Japan and 0.09 percent in the US.
McKinsey estimates that in five years, electric vehicle production is likely to exceed 270,000 units in China, but that would still be just 1 percent of the country's total car production in that year.
"Given the enormous scale of its auto market, China should be a natural contender for global leadership in the electric vehicle market.
"Turning this potential into a reality will require the government and industry leaders to make key decisions around the choice of technology, charging station infrastructure, as well as the level of subsidies and research support from the government," Wang said.
Some foreign automakers, though ambitious in developing electric vehicles in China, have not yet taken any action because they are worried about the protection of intellectual property rights, Krieger said.
In addition, these manufacturers are not clear what to do because of the lack of clear government guidance, he said.
"However, in the long term, McKinsey believes China has advantages in the development of electric vehicles, as it could help save up to 90 percent of the cost of driving," he said.
Wang Guangju, an analysts with Hwabao Securities, wrote in a research note: "Amid a depressed market, domestic automakers should focus on the research and development of key technologies, so as to lower the cost and they should not be anxious for success."
The primary goal is still to popularize hybrid electric vehicles before 2015, and electric public transport fleets such as bus fleets are likely to represent the first wave of battery electric vehicles adopters in China, he said.