Suzlon Group enters Romanian wind energy market with 25 MW order win, new subsidiary Pune/Hamburg: Suzlon Group subsidiary, REpower Systems SE, has concluded a contract with P.E. DEUS EX S.R.L., a project company (SPV) of WSB International GmbH, to deliver eight wind turbines to Romania.
The REpower 3.2M114 wind turbines, each with a rated power of 3.2 megawatts (MW), a hub height of 93 metres and a rotor diameter of 114 metres, are destined for a wind farm project near Margineni (Neamt county, Romania). REpower has already concluded several contracts for projects in Poland and the Czech Republic with the parent company and owner, WSB Neue Energien GmbH. The wind farm is set to be constructed and commissioned by autumn 2013.
At the same time, the Hamburg-based wind turbine manufacturer has also founded REpower Systems DTE Romania SRL, a Romanian subsidiary. The headquarters is located in Bucharest.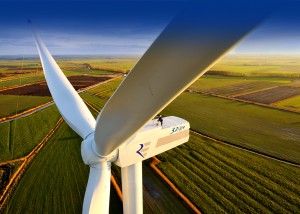 The wind farm in north-east Romania and the launch of the wholly owned subsidiary mark REpower's entry into the Romanian market. "We are pleased to be working with WSB International GmbH as an experienced partner to implement our very first project in Romania," says Jan Gasche, Managing Director of REpower Systems DTE Romania SRL. "The Romanian market boasts tremendous potential that we naturally want to take advantage of for REpower in the coming years," says Mr Gasche.
"REpower is a reliable and important partner for us in the implementation of wind farm projects. We strive to deliver the highest quality from the planning phase right up to the commissioning of the farm, and the wind turbines are a core element of this," says Stefan Hain, Managing Director of WSB International GmbH.
REpower Systems SE, a wholly owned subsidiary within the Suzlon Group, is one of the world's leading manufacturers of onshore and offshore wind turbines. The international mechanical engineering company develops, produces and markets wind turbines for almost any location – with rated outputs of 1.8 MW to 6.15 MW and rotor diameters of 82 meters to 126 meters. Furthermore, the company offers its customers project specific solutions in the areas of turnkey, service and maintenance, transport and installation, as well as foundation planning and construction. The profitable and reliable systems are designed at the REpower TechCenter in Osterrönfeld and manufactured at its plants in Husum (North Friesland), Trampe (Brandenburg) and Bremerhaven as well as Portugal, India and China. With more than 2,900 employees worldwide the company headquartered in Hamburg can make use of the experience gained from the manufacture and installation of over 3,800 wind turbines around the world. REpower is represented by distribution partners, subsidiaries and participations in European markets such as France, Belgium, the UK, Italy, Portugal, Sweden, Poland and Spain as well as on a global level in the USA, China, Australia and Canada.
The Suzlon Group is ranked as the world's fifth largest wind turbine supplier, in terms of cumulative installed capacity, at the end of 2011. The company's global spread extends across Asia, Australia, Europe, Africa and North and South America approaching 20,000 MW of wind energy capacity installed in 30 countries, operations across 33 countries and a workforce of over 13,000. The Group offers one of the most comprehensive product portfolios – ranging from sub-megawatt on-shore turbines at 600 Kilowatts (KW), to the world's largest commercially-available offshore turbine at 6.15 MW – with a vertically integrated, low-cost, manufacturing base. The Group – headquartered at Suzlon One Earth in Pune, India – comprises Suzlon Energy Limited and its subsidiaries, including REpower Systems SE.
www.suzlon.com