A slew of renewable energy projects now in the works across the country from solar and wind power has put the UAE in the top levels of countries vying to diversify energy production to meet future demands while remaining sustainable.
As one of the world's largest oil producers, the UAE is doing everything but resting on its laurels when it comes to its ensuring future contributions to the global energy sector.
The UAE aims to produce seven per cent of its electricity, for example, through alternative energy renewables by 2020.
Topping the list is the UAE's $18 billion (Dh66 billion) Masdar project, a self-sustaining solar-powered city of 30,000 residents in Abu Dhabi that has turned heads worldwide and is expected to continue to place UAE at the forefront of emerging new renewable energy developments.
Equally ambitious is Abu Dhabi's new $600 million (Dh2.2 billion) Shams 1 concentrated solar power (CSP) plant, set to open by year's end across a footprint of 2.5 square kilometres with a capacity to produce 100 MW of power.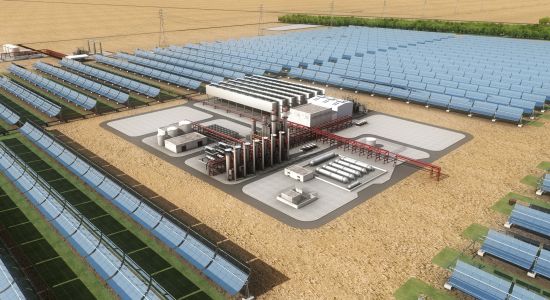 A joint project between Masdar (60 per cent), Total (20 per cent) and Abengoa (20 per cent), Shams 1 will be the largest solar project in the world when the switch is flipped, said officials.
Dubai announced its plans to join the renewable energy sector with its massive solar power project — Mohammad Bin Rashid Al Maktoum Solar Park — at a cost of Dh12 billion.
The project is set to beginning power production by the fourth quarter of 2013 and will be operated by Dubai Electricity and Water Authority (Dewa).
Implemented by the Supreme Council of Energy (SCE) in Dubai, the new park is being constructed on a 48-square-kilomtre area at Seih Dahal and in its first phase, will produce 10 MW of power.
In an earlier interview with Gulf News, Saeed Mohammad Al Tayer, Managing Director and CEO of Dewa and Deputy Chairman of SCE, said while the initial stages of the project are government funded, later stages will welcome private investment.
"The SCE is meeting its responsibility to continue our relentless pursuit to provide clean energy solutions to efficiently meet out future requirements and develop a reduce carbon-footprint economy," he said.
The country-wide capital investment in solar power is part of a worldwide push to build more and more solar energy plants which stood at 7GW in 2006 and reached 67GW in 2011.
A spokesperson with the Emirates Solar Industry Association (EISA) told Gulf News earlier that the ballooning investment by the UAE reflects what its believes to be a growing trend across the Middle East and beyond.
"EISA strongly believes that the Middle East is one of the future core markets of solar power and now is the right time to star investing in solar power," said an EISA spokesperson.
The regional investment is likely to be worth billions of dollars over the next decade.
Wind-driven projects, meanwhile, are also on the threshold of becoming very popular vehicles to produce electricity and water, according to a French-based company.
Eole Water, based in Sainte Tulle in south France, told Gulf News in an exclusive interview that it was beginning its first field trials of its new wind turbines that create fresh potable water from thin air.
The revolutionary turbines are said to be able to produce up to 1,000 litres of drinkable fresh water every day and could stave off severe water shortages in the UAE in decades to come, said the company.
Early testing figures show that each turbine being tested in the UAE could produce up to 62 litres of water per hour with an average humidity rate of 45 per cent and an average temperature of 24 degrees Celsius.
Thibault Janin, marketing director for Eole Water, said that the company had been conducting tests since November 2011 at Mussafah to see how the wind turbines meet tough weather conditions.
He said that each turbine "features automatic sandstorm protection shutters and a humidity condenser with a particular alloy."
Wind turbines being tested now measure 30 metres high and weigh 12 tonnes and work, in short, by transforming humidity in the air into a liquid.